10 Halloween costume ideas for the TV fanatic on a budget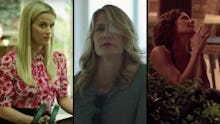 We've got less than two weeks until Halloween, and we already feel the panic setting in. For people who refuse to take part in Halloween, they're thinking of the excuses they'll give to get out of parties. "I'm painting my entire apartment!" "I haven't done laundry in three centuries!"
And if you're actually thinking about dressing up, then your head's probably spinning right now. What to do in a year like 2017? You want to be fun and original, for sure, but you also don't want to spend a fortune.
That's why we're thinking TV is the perfect inspiration. There was just so much good TV in 2017, from all our queens uniting on Big Little Lies to the most recent season of The Real Housewives of New York City.
Here's our list of the best TV-inspired costume ideas for 2017:
Celeste from Big Little Lies
Oh Celeste, how we loved thee. And still, months after Big Little Lies's finale, our love lives on. Honestly, if Nicole Kidman hadn't won an Emmy for this role, we'd be picketing outside of the Academy of Television Arts & Sciences right now.
We could never look exactly like Celeste, of course, but an outfit comprised of complementary neutrals and luxe fabrics would be a good start. And as for the hair (that amazing hair!), well, you can either get yourself a very, very good wig or just leave it be. There's no sense in trying to achieve such perfection anyway.
Madeline from Big Little Lies
Madeline. Our favorite type-A mom with hidden rage, played by the extraordinary Reese Witherspoon.
You could actually go for a few different looks to dress up as Madeline. You might opt for her classic cardigan with an A-line dress, or (preferably) go as her incredible Audrey Hepburn cosplay.
To get that look, simply wear a men's white button-down and get crafty with that sleep mask.
Renata from Big Little Lies
Sensing a theme here? We promise this is the last one, but how could you not be a little bit tempted to dress up as Renata, played by Laura Dern, this Halloween? Like the other BLL women, you've got some options.
You could go as Renata with the eyepatch.
You could choose one of Renata's best looks (in our opinion), which had her clad in a chunky white sweater and slim black pants.
Just don't stop screaming — people will eventually get it.
Barb from Stranger Things
Why be Eleven when you could be Barb? Given how the '70s and '80s have permeated our closets already, you probably already have a Barb-worthy ruffled top — so all you need is a giant pair of glasses and an unflattering pair of pants. Sorry about that, Barb.
Joyce Byers from Stranger Things
And honestly, why be Barb when you could be Winona Ryder's character, Joyce the Concerned Mother? To achieve this look you can wear an army green jacket, hold some Christmas lights and continuously chain-smoke.
Joanna from Fixer Upper
Wear jeans, whatever top you want and carry a panel of shiplap — it's that simple.
Falling Luann from The Real Housewives of New York
Find a black jumpsuit, precarious heels and don't stop tumbling to the ground. Extra points for accuracy if you manage to fall into the bushes.
Any wrestler from Glow
We'll take any excuse to wear extreme '80s makeup, so why not wear some spandex, too? Leg warmers would probably be the hardest item to find to complete this look, but we believe in you.
Recreating Sheila the She Wolf's look could be quite fun.
Elliot Alderson from Mr. Robot
This is the ultimate slacker's Halloween costume at this point, and we think that's just fine. Wear a black hoodie — and don't sleep for a full 24 hours — and you'll look exactly the part.
Darius from Atlanta
Hey, have you watched Atlanta? You should. It's great, and there's one character we're particularly obsessed with. His name is Darius, he's played by the wonderful Lakeith Stanfield, and he loves lemon-pepper wings.
There were a lot of iconic moments on the show, but one that stuck with us was a scene in which Darius opens up a box of lemon-pepper wings "with the sauce" and his entire face lights up. He gets teary eyed. It's relatable and yes, a great Halloween costume if you want to impress your friends with the amount of time you waste while watching TV.
Wear a cool T-shirt, buy yourself a box of lemon-pepper wings and prepare to get all misty-eyed.