Trump judicial nominee admitted he discriminates against LGBTQ people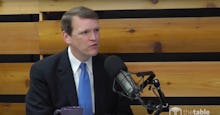 One of President Donald Trump's federal judge nominees openly admitted to discriminating against LGBTQ people, according to audio of a speech he gave at a religious liberty conference obtained by Vice News.
"Guess what? I attend a conservative Baptist church. We discriminate, alright. On the basis of sexual orientation, we discriminate," Jeff Mateer, a Trump nominee to sit on the U.S. District Court for the Eastern District of Texas, said at the National Religious Liberties Conference in 2015. "Does that mean I can't be a judge? In some states, I think that's true, unfortunately."
The unearthed remark is the latest controversial comment Mateer has made that's surfaced before the Senate takes up his nomination for a lifetime appointment to a federal judgeship.
Mateer has also said transgender children are part of "Satan's plan," and supports "conversion therapy," an anti-LGBTQ practice that's been banned in multiple states.
The Senate Judiciary Committee — which holds hearings to vet presidential judicial nominations — received Mateer's nomination on Sept. 7. He's yet to face a hearing before the committee on his nomination.
Three-dozen LGBTQ groups sent a letter to senators on Monday demanding that Trump withdraw Mateer's nomination, saying he "routinely spews" what they described as "unrestrained, hostile bombast and vile anti-LGBT propaganda."
"Mr. Mateer's appointment to the bench would cause grave harm to the LGBT community, as well as many other communities who rely on the federal judiciary to administer fair and impartial justice," the letter, sent by the LGBTQ group Lambda Legal and signed by a number of LGBTQ organizations, reads. "His record of vicious and hateful statements combined with his portfolio of extreme anti-LGBT advocacy make Mr. Mateer uniquely and demonstrably unfit for a job as a federal judge."