This celebrity chef has served more than a million meals in storm-ravaged Puerto Rico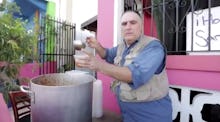 With Puerto Rico still reeling from the devastation of Hurricane Maria, much of the island is still in desperate need of basic services. As CNN reported Wednesday, one month after the storm, more than 80% of the island is still without power — that's 3 million people in the dark — and around 1 million people still lack drinking water at home.
Dedicated volunteers from both Puerto Rico and the mainland U.S. are working day and night to alleviate the suffering and provide aid. One celebrity chef has made a difference by serving up more than a million meals, and he's still at it.
José Andrés, a Spanish-American chef who owns restaurants all across the U.S., has been in Puerto Rico for weeks. On Tuesday — through the efforts of his nonprofit World Central Kitchen and the volunteers who lent their time — Andrés announced on Twitter that he and his #ChefsForPuertoRico team had served their millionth meal.
The massive relief effort has required help from all corners: As of Wednesday, between 450 and 500 volunteers were helping out daily, the Washington Post reported.
Andrés has also teamed up with a San Juan-based chef, José Enrique, and initially operated solely out of the kitchen in Enrique's restaurant. By the time #ChefsForPuertoRico served its millionth meal on Tuesday on, the group was working in 15 kitchens and counting, the Post reported. It even has a food truck that has been delivering hot meals around the island.
The operation has relied on donations to Andrés' charity, World Central Kitchen, along with other kinds of help: Goya Foods loaned out a helicopter to help Andrés and his team get meals to more remote parts of the island, the Post reported, and celebrities like Lin-Manuel Miranda have boosted the effort on social media.
Andrés, who also helped cook meals in Houston after the city flooded following Hurricane Harvey, has made headlines before.
In April, Andrés and the Trump Organization settled a two-year legal battle that began when Andrés, who had had plans to open a restaurant in the Trump International Hotel in Washington, D.C., pulled out of the deal because of offensive comments Trump made about Mexican people in 2015.
The Trump organization sued Andrés' restaurant group for breach of contract, and Think Food Group countersued, but the parties settled in early 2017.
Having surpassed 1 million meals served in Puerto Rico, Andrés and his team show no signs of slowing down. In a Facebook post Wednesday, Andrés wrote, "Today our Piscolabis food truck made it to San German to deliver hot meals in southwest PR! #ChefsForPuertoRico goes wherever there is need!"