Monica Lewinsky, launching a campaign to curb bullying, opens up about her history of harassment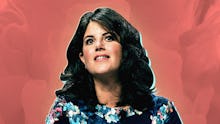 Monica Lewinsky is no stranger to the topic of bullies.
In a well-received 2015 TED Talk, the former White House intern referred to herself as "patient zero" when it comes to "losing a personal reputation on a global scale, almost instantaneously." Lewinsky, of course, was introduced to the world in the late '90s as the center of a sex scandal involving President Bill Clinton — decades before frank discourses around the impact and implications of slut-shaming entered the fray or community-building through sharing experiences with harassment and assault, à la the #MeToo campaign, had begun.
As causes near and dear to one's heart go, the proximity could not be closer for Lewinsky. After all, bullying is just as pervasive today as it was for Lewinsky 20 years ago. Just this past Thursday (on national #SpiritDay, no less, a day when millions wear purple to stand against bullying in support of LGBTQ youth) English singer-songwriter Dua Lipa took to Twitter to reprimand some of her own fans, who had reportedly been in-fighting with one another at her shows.
Even fast food restaurants have recently weighed in on conversations of bullying.
Lewinsky says her own experiences with bullies and harassers date back far before she ever set foot in the White House. "I experienced a very mild form of bullying in sixth grade," Lewinsky said in a phone interview with Mic. "One day some kids who were around my age, and were my friends at the time, concocted some game where someone would holler out a number or a letter, and it was code for an action to do to me. So it might have been 'run up to Monica' or 'run away from Monica' or 'say something to Monica' and I just remember first standing there pretty shocked but also feeling very alone."
These experiences throughout her life have led Lewinsky to not just take a stand, but launch a mission to help end bullying and destigmatize the conversation and shame around it.
To do so, Lewinsky has launched a powerful anti-bullying campaign in observance of Bullying Prevention Month, which includes a new PSA and a partnership with Snaps to release a #BeStrong emoji sticker pack. The aim is to spread positivity through online interactions.
"All the experiences I've had around bullying or cyberbullying or public shaming have all shifted my perspective toward one of compassion," she said. "Or I should probably say, the work that I've had to do on myself to heal from those experiences shifted me onto a path of compassion."
She continued, "In 1998, when I was going through my experiences, I would get mail from people all over the world. And while some of it was not pleasant to read, a lot of it, by and large, was support from strangers. There were days that support — that came in the form of a letter — was what carried me through."
Lewinsky says that "digital resilience" is key. "It's likely that most people will experience some form of bullying, or cyberbullying, or harassment or public shaming in their lifetime. What I've found personally is two things: to not suffer in silence and to not feel siloed in their shame. And the second thing — and I was lucky to have this — is family and friends to reflect back to me who my true self was. I was always moored in some ways to the truth of who I am, rather than really buying into too much what other people were saying about me."
A large portion of online bullying happens in the form of body shaming — it's a subject we've written about extensively through the years. Lewinsky agrees that undoubtedly misogyny plays a role in this.
"But where I would maybe shift your point a little," she tells Mic, "is that women are not immune to being misogynistic. I think, as a woman online, I am probably exposed to comments from men as much as I am to derogatory comments from women, too. And I think there are a lot of women who feel that." She cites a 2015 Glamour magazine study that cited close to 49% of the 1,000 women surveyed as being victims of bullying from other women.
As for the man who many see as our country's own bully in chief, Donald Trump, Lewinsky remains tight-lipped, eager not to deviate from her chosen platform.
"I have very strong personal feelings about this topic — and I'm not neutral — but my focus is really on the targets of bullying behavior, and the people who are suffering right now — possibly alone in their experience."