Appeals court halts order allowing abortion for teenage immigrant detainee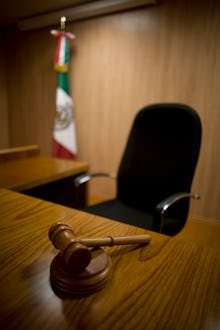 In response to a federal judge's decision on Wednesday, an appeals court in Washington today temporarily halted an order that Trump officials must allow an undocumented, unaccompanied minor being detained in Texas to obtain an abortion.
On Wednesday, Federal Judge Tanya Chutkan, an Obama-era nominee, ordered officials to allow the teenage girl, referred to as Jane Doe to protect her identity, to obtain an abortion no later than Oct. 21, the Washington Post reported.
Texas requires all people seeking abortions to have a counseling session 24 hours before a procedure. The stay issued Thursday does not block Jane Doe from finishing that part of the process. However, it does prevent her from obtaining the abortion, her lawyers said.
Federal officials had previously denied transporting Jane Doe, who is currently detained in Brownsville, Texas, to an abortion clinic — despite the fact that she met the state's legal requirements to undergo the procedure, according to a legal complaint filed by the teenager's lawyers.
"This administration has no shame and no regard for a woman's health or decisions," Brigitte Amiri, senior staff attorney with the ACLU Reproductive Freedom Project, said in a statement. "Weeks ago, our client decided to end her pregnancy. Her decision is being disregarded and she's now been dragged into a protracted legal battle over her ability to get the care she needs. The abuse of power is appalling."
A new hearing is set for 10 a.m. Friday morning to argue the merits of the case, according to Doe's lawyers.
Doe had gotten a judicial waiver to terminate her pregnancy in September. But rather than taking her to a clinic, officials with the Trump administration instead referred the 17-year-old to a crisis pregnancy center, where she was counseled to carry the pregnancy to term and underwent an ultrasound, her lawyers said.
The Department of Homeland Security maintains that undocumented immigrants have no right to an abortion under the constitution.
Politico reported that Scott Lloyd, who oversees the care of unaccompanied minors as the head of the Office of Refugee Resettlement, issued a memo in March saying any facilities that authorized abortion procedures for the minors in their care would be punished.
Lloyd, who previously led the Knights of Columbus, a pro-Life Catholic organization, has personally intervened in several cases, the Post reported.