Model Ines Rau makes 'Playboy' history as first-ever out transgender Playmate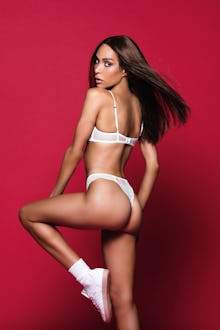 "It's like a crown of femininity on your head."
That's how model Ines Rau, who's appeared in Balmain campaigns and been featured in Vogue Italia, describes becoming Playboy's first-ever out transgender Playmate, appearing in the November issue, which has Hugh Hefner on the cover.
"When I was shooting in Hollywood, I cried," Rau, who splits her time between Paris and New York City, said in a phone interview with Mic on Thursday. "And they were like, 'What's happened?' You know, feeling so beautiful and embracing who I am feels so important right now. It's like a crown of femininity on your head. I cried, I was so emotional. And I'm still super exited and emotional."
The first time Rau shot for Playboy was in 2014, as she was just opening up to family and friends about her identity. When the images and Rau's story came out in the May 2014 issue, she was able to come out to the industry, which marked the beginning of her trailblazing career.
"Playboy is like my lucky star in a way," Rau said. "I shot with them in 2014, and I got signed with my first agency afterwards. Playboy really loved me for some reason. I'm not the classical juicy playmate. I'm super athletic, but I think Playboy just really liked me and everything I stood for."
With Hefner on the cover of the magazine she's appearing in now, Rau considers this moment even more special.
"Hugh Hefner was always defending causes like women's rights, women's freedom. I know he fought for same-sex marriage," Rau said. "So I think it's even more iconic with him on the cover. It's a collector's issue and it's going to get a lot of visibility and if I can get people educated on this fact that trans girls are just girls, then that's great."
As Rau's already realized, education is still critical. Since the news broke earlier today that Rau was making history as the first trans Playmate, she's been bombarded with transphobic messages, which isn't something she was expecting.
"I have a lot of support from my friends and people in the fashion industry. They're writing nice messages," Rau said. "But a lot of transphobic comments are coming in. I'm deleting them, I'm not going to lie. Those comments honestly make me even more happy and proud to be in Playboy. It's very good that a magazine like Playboy is doing its part for transgender awareness. I honestly didn't know there was so much hate around."
Clearly Playboy's fanbase still has something to learn.
In being a part of the Playboy family, Rau joins women like transgender actress Caroline Cossey, who appeared in the pages of Playboy in the 1980s and '90s. When Hefner died in September, the actress tweeted a thanks to Hefner for giving her a platform to help her campaign "for trans rights and visibility."
What Rau hopes comes from this moment is that more people not only understand women like her, but respect and appreciate them too.
"A lot of trans women suffer from being discriminated against," Rau said. "I want to show everyone that they are normal people and beautiful and should be appreciated in society, in fashion, in Playboy, in cosmetics. If more people can feel that they are normal people, because they are, then that's what I'm really happy about. I think with this platform, people can read and try to understand and then respect and then maybe appreciate us. That's my goal."
Just 26 years old and making history already — with acting roles and a book on the way — Rau is absolutely one to watch.