Survey finds black, Asian and women doctors are more likely to face bias — from their own patients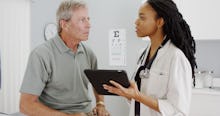 A new survey of doctors found that a majority have faced bias from their own patients — but black, Asian and women doctors are far more likely to encounter prejudice, including offensive comments, from the people they treat.
According to the survey, released Wednesday by WebMD and Medscape in collaboration with Stat, 70% of black doctors and 69% of Asian doctors said they had heard biased comments from patients, compared to 55% of white doctors.
Dr. Leon McDougle, who currently serves as chief diversity officer at Ohio State University's Wexner Medical Center, recounted his experience with bias in a statement to WebMD.
McDougle, who is African-American, said that during his residency at the Naval Hospital Camp Pendleton's obstetrics unit, he once went to treat a woman in labor. "The husband informed me that he didn't want me taking care of his wife," McDougle said. "And it was based on race. What the father didn't know was that out of all 12 interns, I had received the most obstetrical education as a medical student."
The survey also found that 65% of women doctors said they had experienced biased comments from their patients, including remarks about their age, weight or gender.
Some doctors' personal experiences with bias have gone viral — in August, Dr. Esther Choo, an Asian-American emergency room physician in Oregon, described her encounters with racist patients through a series of tweets.
In her Twitter thread, Choo said that when patients refuse treatment from her based on her race, she often gives them the choice between her, a qualified physician, or an intern. "And they invariably pick the intern, as long as they are white. Or they leave," Choo wrote in a tweet.
In 2016, Dr. Tamika Cross was aboard a Delta flight when another passenger had a medical emergency. She volunteered when a flight attendant asked if there was a doctor on board, but, she said in a Facebook post, she was dismissed when the flight attendant told her she was "looking for actual physicians or nurses or some type of medical personnel, we don't have time to talk to you."
Cross, who is black, said her offer to help was initially passed over while a white man, who said he was also a doctor, was immediately brought in to assist with the medical emergency.
When doctors encounter bias from their patients, it can have real consequences. Dr. Sachin Jain, a physician and adjunct professor of medicine at Stanford University who has studied race and patient care, told WebMD that hearing biased or offensive comments can interfere with a doctor's ability to provide care to their patient.
"I think medicine is a profession that requires you to give your soul and develop a therapeutic bond with someone," he said. "If someone has a hateful perspective toward you, it naturally gets in the way of your ability to deliver that kind of care, because you're not necessarily able to develop that therapeutic bond."
Jain said he had experienced this firsthand. When he was a resident in Boston in 2012, a patient he was trying to help told him, "Why don't you go back to India!"
Jain said he "exited the room in a cold sweat" and moved the patient to another physician. Even if incidents like these are infrequent, he said, "Over long careers, these types of episodes do happen. And they sit with doctors for a long time."