Army Reserve green card ban "sends chilling message" to immigrants, veterans group says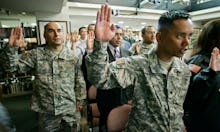 The head of a group supporting immigrant veterans is condemning the Army Reserve's temporary ban on green card holders as a "chilling" signal to permanent residents that they are not welcome in the U.S. military.
"It sends a chilling message to an entire group of folks [who] have been some of our best soldiers that the United States of America doesn't want you or is fearful of you," Nathan Fletcher, chairman of the Honorably Discharged, Dishonorably Deported Coalition, said in a phone interview Thursday. "I think it's inconsistent with our military values and inconsistent with what America stands for."
Mic reported Wednesday that the U.S. Army Reserve will not allow green card holders to enlist "for the time being" because of new background screening measures announced Friday. Under the new policy, which is effective immediately, permanent residents must complete a background check before entering basic training.
In the Army, that means enlistees will be placed in the Delayed Entry Pool and will not be shipped to basic training until their screening is finished.
But the Army Reserve does not have a Delayed Entry Pool, and "an individual is considered an accession as soon as they sign the contract, even before they ship to training," Kelli Bland, director of public affairs at the U.S. Army Recruiting Command, said in an interview with Mic.
As such, Army Reserve enlistments have been on hold "for the time being," but Army Recruiting Command is working to re-establish a Reserve Delayed Entry Pool, Bland said.
However, Fletcher — a Marine Corps combat veteran who previously served in the California State Assembly — said the move is a "creative bureaucratic delay" that has "no rational basis."
"This category of folks have been vital to the founding of our country," Fletcher said. "We ought to be expediting their enlistment."
A recruit told the Washington Post on Wednesday that the new policy is "confusing" and has seemingly vexed not just enlistees, but recruiters.
"We had a contract and now they're not going to respect the terms," the recruit, who spoke with the Post on the condition of anonymity, said.
Sen. John McCain (R-Ariz.), chairman of the Senate Armed Services Committee, called the move "ridiculous" in a recent interview with Mic.
"It would cut down on a very valuable sector of men and women who are willing to serve our country," McCain said.
Fletcher said he's not opposed to the new background check policy. But, he added, permanent residents are being unfairly targeted by the policy in a way that suggests they pose a threat — and that it's part of a broader issue of how immigrant veterans are treated.
The Army's move, which continues enhanced screening measures introduced under former President Barack Obama in 2016, follows another controversial ban — enacted by the Trump administration — on transgender individuals from serving in the U.S. military. Aaron C. Morris, executive director of Immigration Equality, an LGBT immigrant advocacy organization, said in a statement Wednesday that the policies are "discriminatory" and "fulfill no government purpose."
"These discriminatory policies only hurt the military's readiness and effectiveness," Morris said. "If transgender and immigrant service members are willing to put their lives on the line to keep America safe, we should honor that sacrifice."