What Melania Trump wore her 39th week as first lady — the 3 times she appeared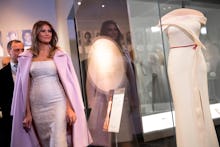 After a few consistent weeks of multiple appearances, Melania Trump's back to her habit of laying low.
Amid rumors of Trump having a body double (she doesn't), the first lady made just three public appearances this week, popping up at Trump International Hotel, a gala dinner and the Smithsonian's National Museum of American History, where she donated her inaugural gown Friday.
This is what Trump wore:
Saturday, Oct. 14: A black dress for dinner
Quite the low-key dress for a low-key week. For dinner with her family, Trump opted for a black dress and matching black patent heels. The designer of this dress has yet to be identified, but it does strike us as a Dolce & Gabbana silhouette.
Thursday, Oct. 19: A white Dolce & Gabbana suit
The only reason we have these images is because of Twitter — so thanks, Twitter! For the Kuwait-America Foundation's gala dinner Thursday, where Trump reportedly made a speech, Trump opted for what seems to be her new favorite look: menswear.
Wearing a sharp white suit à la Hillary Clinton, Trump's look is guessed to be from Dolce & Gabbana, one of her most frequently worn designers.
Friday, Oct. 20: A pink coat for the Smithsonian
On Friday, Melania Trump officially donated her inaugural gown — that white off-the-shoulder number by Hervé Pierre — to the Smithsonian's National Museum of American History, where it will be on display with previous inaugural gowns worn by the likes of Clinton and Michelle Obama.
To this event, Trump wore one of her most beloved silhouettes: an off-the-shoulder coat, this time in pink or maybe lilac (the lighting makes it hard to tell). The dress underneath is a sleeveless white brocade shift by, you guessed it, Dolce & Gabbana.
The shoes were fuchsia Manolo Blahniks.
You can see previous recaps of what Melania Trump wore here.