How the FCC helped pave the way for Sinclair to take over American broadcasting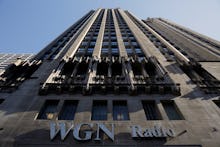 Tribune Media's shareholders on Thursday approved a takeover by Sinclair Broadcast Group, moving the conservative telecommunications company one step closer to a massive media consolidation deal that will likely go through under the Republican-led Federal Communications Commission.
Sinclair, which owns more than 170 local television channels across the country, in May proposed to buy Tribune for $3.9 billion in a deal that would give it control over some of the biggest local television markets in the nation, including in New York and Chicago.
"Today's vote is an important milestone in the merger process and confirms that Tribune stockholders strongly support this transaction and the value it delivers," Tribune Media CEO Peter Kern said in a statement. "We look forward to continuing our work with Sinclair toward the closing of this deal."
While regulatory and antitrust officials still need to approve the deal, it is far more likely to get the go-ahead under the Trump administration's Federal Communications Commission. FCC chairman Ajit Pai, a Republican Trump appointee, voted in April to change the way the commission counts the audiences of stations, making it easier for big broadcasting companies to grow even larger.
Corporations were previously limited in how many media outlets they could own in certain markets. Additionally, companies are only allowed to serve 39% of the national TV viewership. But the new policy, which reversed a 2016 FCC ruling, only counts of some stations' audience, making it easier for big corporations to buy more stations before maxing out. The FCC also suggested it might consider raising the 39% limit, allowing for even more expansion.
Former FCC chairman Tom Wheeler warned of the impending deal in a recent interview.
"The Trump FCC has, in one very short period, moved to change three basic rules that have been in place to protect the diversity of voices and avoid monopolization of the broadcast television market," Wheeler said on PBS NewsHour. "We have a society in which the flow of information is crucial to a democracy. And when that free flow of information gets choked off by corporate consolidation, we ought to all worry."
Sinclair's bid to buy Tribune has already come under a great deal of scrutiny, not least because the Baltimore-based broadcaster requires its stations to run a certain amount of conservative-leaning news programming each day. That practice, as well as the company's decision to hire Donald Trump's former campaign adviser Boris Epshteyn, has attracted a considerable amount of media attention.
Conservatives and liberals alike have closely watched the takeover bid because of the consolidation of power that would occur under the deal. If the merger is approved, Sinclair would become the largest single owner of local television stations around the country, reaching nearly 70% of U.S. households. Various conservative-leaning media sites and networks, like Newsmax, the Blaze and One America News Network, have voiced opposition to the deal. Fox News' parent company, 21st Century Fox, made an unsuccessful bid for Tribune.