John Kelly defends Trump, rips congresswoman over phone call to family of grieving soldier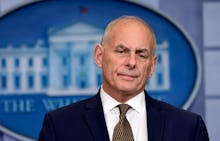 In a dramatic press briefing Thursday, White House Chief of Staff John Kelly defended comments President Donald Trump reportedly made to a family of a soldier killed in Niger and attacked the member of Congress who publicly criticized Trump for the sentiments he shared in his sympathy phone call.
Kelly was referring to a phone call the president made to the family of the late Sgt. La David T. Johnson, during which Trump allegedly told Johnson's widow that her late husband "knew what he signed up for" when entering the military.
Rep. Frederica Wilson (D-Fla.), who was with Johnson's family when Trump made the call, told the media about Trump's comments, calling them offensive and sparking a firestorm over how he handles the grieving families of fallen soldiers.
"It stuns me that a member of Congress would have listened in on that conversation," Kelly said, referring to Wilson.
The phone call has erupted into controversy.
After Wilson said Johnson's family felt disrespected by Trump's words, the president pushed back, claiming Wilson "totally fabricated" his comments and threatening to release "proof."
But Kelly, himself a retired Marine four-star general, seemed to confirm Wilson's account of what Trump said to Johnson's family.
"He knew what he was getting himself into because he enlisted," Kelly said of Johnson. "There's no reason to enlist. He enlisted and he was where he wanted to be, exactly where he wanted to be with exactly the people he wanted to be with when his life was taken. That was the message.
"That's what the president tried to say to the four families yesterday," Kelly added.
Kelly didn't apologize on Trump's behalf to Johnson's family, who said they felt Trump "did disrespect" them on the call, nor did he acknowledge that Johnson's family said they invited Wilson — who had previously mentored the fallen soldier — into their car when Trump made the call. They also said they put the call on speakerphone so she could hear.
Still, Kelly fully defended Trump, saying he expressed his condolences "in the best way that he could," and lamenting that Wilson's "selfish behavior" took away something sacred.
"When I was a kid growing up, a lot of things were sacred in our country," Kelly said. "Women were sacred and looked upon with great honor. That's obviously not the case anymore as we see from recent cases. Life, the dignity of life was sacred. That's gone. Religion, that seems to be gone as well. Gold Star families, I think that left in the convention over the summer. I just thought the selfless devotion that brings a man or woman to die on the battlefield — I just thought that that might be sacred."