Who will Donald Trump pick for Fed chair? What to know about Yellen, Powell, Taylor & other names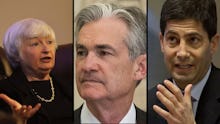 The Federal Reserve, or United States' central bank, has two big responsibilities: Ensuring as many Americans as possible have jobs, and ensuring prices grow at a steady — but not out-of-control — rate. It is known as the "dual mandate," and represents a difficult balance to strike. Mostly, the Fed does this by carefully manipulating the cost of borrowing money.
By Nov. 3, 2017, President Donald Trump is expected to announce his pick for the new Federal Reserve board chair from a shortlist that reportedly includes five candidates. It is a decision that could have huge effects on the American and global economy, particularly since the candidates on the shortlist hold a wide range of differing views about the Fed's role.
"Anyone who has a job where they earn a wage is going to be affected by this decision," said Shawn Sebastian, co-director of Fed Up, which lobbies for worker-friendly monetary policy. "The Fed has a legal obligation to try and facilitate maximum employment. [Reported candidate] John Taylor doesn't believe in that, he wants to get rid of that mandate."
Because it's so important, the Fed chair appointment tends to cross party lines. Alan Greenspan, one of the longest-serving board chairs, was appointed by Republican President Ronald Reagan, but was kept on by Democrat Bill Clinton. Ben Bernanke got the job when Greenspan retired under President George W. Bush — but Bernanke stayed on, too, under President Barack Obama, to help steer the economy out of the financial crisis.
The thinking is, at least when it comes to the U.S. economy, it's best to have gradual change. Yet it's not widely expected that Trump intends to follow on this tradition by keeping current chair Janet Yellen. So far, she is only one of five candidates seen as the likeliest picks for the job. Here's what to know about them, and what their appointment might mean for the economy.
Janet Yellen
Despite the longstanding tradition of reappointing predecessors' Fed chairs, just four out of the more than 40 economists recently polled by Reuters said they expected Janet Yellen to keep her job. Still, about two-thirds of the group said they felt Yellen was the best person for the position. Pedro da Costa wrote in Business Insider that Yellen "should, in a reasonable world, lead to a no-brainer reappointment."
"Janet Yellen should be reappointed," Fed-Up's Sebastian said. "She's presided over incredible job growth. ... This type of disruption [changing chairs] has a big impact on global markets and the stock market."
Indeed, under Yellen's tenure the stock market has continued hitting all-time-highs; jobless claims are at a 44-year low, making her the favorite of Wall Street. On the flip side, opponents of Yellen's re-nomination, including the authors of the Wall Street Journal editorial page, have accused her of not doing enough to stimulate economic growth.
Jerome Powell
Jerome Powell is reportedly a frontrunner for the top job. As a member of the current Fed board of governors, Powell has voted similarly to Yellen, but he is also a registered Republican who spent a lot of his career at the private equity firm the Carlyle Group. Politico also reported that he would likely face the least resistance in the Senate. In a recent CNBC survey, 45% of respondents expected Powell to get the job.
As far as consumer concerns, Powell is seen as the most like Yellen in terms of how he would manage raising interest rates — and keep the Fed largely on a similar path to the one it's on right now.
John Taylor
Stanford economist John Taylor would be a more radical pick of the frontrunners. About 23% of respondents in the CNBC survey said they think he'll get the job, and on Friday the Wall Street Journal editorial page gave Taylor, along with Kevin Warsh, a co-endorsement.
Taylor has been a sharp critic of the Fed's post-crash policy, and says he thinks the Fed should have set interest rates much higher than they are now — a view with which many investors, but also workers' advocates like Sebastian, strongly disagree. As Noah Smith pointed out on Bloomberg, Taylor's criticism of the current Fed hinged on predictions of runaway inflation that never happened.
In an email to Mic, the investor Barry Ritholtz put it more bluntly: "I am not a fan of John Taylor — he has been wrong about so much."
Other critics like Neel Kashkari, leader of the Minneapolis Fed, wrote in a Medium post that his team estimates Taylor's policies would have cost about 2.5 million jobs over the course of the recovery.
Kevin Warsh
Kevin Warsh is a big-name Wall Streeter on the shortlist, who spent seven years in the mergers and acquisitions department of Morgan Stanley before leaving to serve as one of President George W. Bush's economic advisers, a job in which he was reportedly involved in selling the bill to deal with the financial crisis to lawmakers.
Warsh may have close ties to Trump: Politico reported that Warsh's father-in-law, Ronald Lauder of the Estée Lauder family, has known Trump for decades. Betting odds compiled by PredictIt have Warsh coming in third place in the horse race, ahead of Yellen but behind Taylor and Powell.
Gary Cohn
As director of the National Economic Council, Gary Cohn is already Trump's main economic adviser and was an early frontrunner for the Fed job. But the New York Times reported that their relationship got tense after Cohn criticized the president's response to the protests in Charlottesville.
There have also been questions about whether Cohn's temperament is suited to the Fed, which is highly academic and extremely slow-moving and deliberate. Cohn's a largely self-made man, who rose the ranks of Goldman Sachs from the trading floor to the No. 2 post, but he's also not known as someone who likes to immerse himself in policy papers.
He also reportedly has a quick temper. Cohn may ultimately be one of the people who ends up helping Trump decide whom to nominate: According to Reuters, Cohn had a lunch meeting with Yellen on Friday, the day after she met with Trump to discuss her re-appointment.
Sign up for the Payoff — your weekly crash course on how to live your best financial life.