Winemakers are raising $5 million to rebuild homes in Sonoma and northern California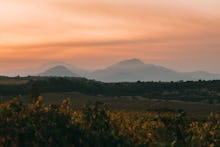 Nearly 7,000 structures, including at least 3,500 homes, have been destroyed by deadly wildfires that ripped through northern California in recent weeks. While some media outlets reported on whether readers could still drink their favorite wines, Sonoma locals in the wine industry were taking action to improve the affected areas and communities.
On Oct. 12, a group of wine professionals launched Rebuild Wine Country to fundraise for a local chapter of Habitat for Humanity.
"Friends of mine in Sonoma county lost their homes," Chris Strieter, cofounder of Senses Wines and one of the driving forces behind Rebuild Wine Country, said in a phone interview. "I wanted [the crowdfunding campaign] to be something digital and easily shared."
Strieter said that since many Californians were getting their news from the internet, he was motivated to reach people with a shareable website — one that could fundraise for long-term economic recovery, since many other nonprofits were tackling short-term needs. "[We] want to unite all of wine country to help wine country," Strieter said.
The team's plan? Partner with a local chapter of Habitat for Humanity that's equipped to repair and rebuild. Since Strieter's team is volunteering their time and resources, all of the money collected will go to Habitat for Humanity.
"Last week half my staff was evacuated, two of them lost their homes, and my parents stayed in a shelter," Catherine Bartolomei, who owns and runs the Farmhouse Inn near Santa Rosa, California, told the New York Times.
But there were several logistical obstacles before the Rebuild Wine Country website went live.
"It was surprisingly difficult to create a long-term, tax-deductible crowdfunding campaign without [having our own tax-exempt status]," Strieter said, explaining he wanted to avoid crowdfunding sites like GoFundMe, which collect fees or commissions of up to 10%.
Rebuild Wine Country's goals are nothing short of ambitious: Strieter said the group hopes to raise upwards of $5 million on behalf of Habitat for Humanity. As of this writing, the organization has raised over $44,000. Partnerships with restaurants and other organizations are in the works, he added, noting that all donations will go toward a mix of repairing and rebuilding.
"Getting a roof over people's heads again ... that's the No. 1 priority," Strieter said.