Trump falsely blames rise in crime in U.K. on "radical Islamic terror"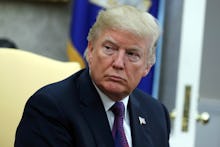 President Donald Trump blamed a recent reported rise in crime in the U.K. to "radical Islamic terror" on Friday.
"Just out report: 'United Kingdom crime rises 13% annually amid spread of radical Islamic terror,'" Trump tweeted. "Not good, we must keep America safe!"
The problem is the crime stats reported in the U.K. have little to do with terrorism.
The crime report includes all crimes, including shootings, robberies and sexual offenses — which are not terror-related — according to the Guardian.
"The police recorded crime series is prone to changes in recording practices and police activity as well as changing behavior in public reporting of crime," according to the report from the Office of National Statistics in the U.K. "As a result, trends will not always reflect changing levels of criminal activity."
British members of Parliament laced into Trump for his comments, saying he is talking "nonsense," according to the Daily Mail.
"Butt out of it, mister president," Chris Bryant, a member of Parliament from the Labour Party, told the Daily Mail. "You have more murders in New York or Chicago every year than we do in the whole country so we're not going to take any lessons from you."
He added that Trump doesn't "understand the difference between causation and correlation."
Stephen Doughty, another Labour Party member of Parliament, told the Daily Mail that Trump should focus on crime issues in the U.S.
"Donald Trump would be better paced looking at issues in his own country such as the huge number of deaths from gun violence which despite repeated atrocities from Sandy Hook to Las Vegas, the U.S. government have failed to take action on," Doughty told the Daily Mail.