After magazine edits Solange cover photo, the singer sends a message: "Don't touch my hair"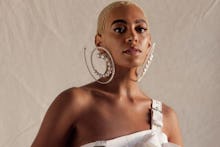 In her song "Don't Touch My Hair," Solange sweetly croons lines like "don't touch my hair/when it's the feelings I wear" and "don't touch my crown/they say the vision I've found." It's all pretty clear. She loves her hair, tends to her hair and doesn't want anyone to disrespect it. But we guess some people just weren't listening closely enough.
That's been made evident by Solange's latest photoshoot for the Evening Standard Magazine. In the spread, Solange looks otherworldly with her hair braided into an architectural feat by the artist Joanne Petit-Frére. Above her head is literally a halo, or crown, made of braids.
But when it came to the cover, the magazine did some editing. Despite Solange's warning, they literally touched her crown, erasing it out of the cover image.
For good reason, Solange isn't taking this lightly, posting the unedited version of that image, with the braided halo in tact, on Instagram. "Dtmh," she captioned the image and tagging the Evening Standard Magazine, or "don't touch my hair."
Petit-Frére posted about it on Instagram, too, mentioning the editing: "Happy to be working with Solange in this cover of Evening Standard," she wrote. "Still need to wake up and do some pinching. Would you believe they photoshopped the crown from the cover?"
Then on Instagram stories, Solange not only posted her own little edited image of the cover ...
But also a screenshot of the part of the story that mentions Solange's affection and appreciation for black hair and braiding ...
"Braiding is important to Knowles. It is an 'act of beauty, an act of convenience and an act of tradition' ? it is 'its own art form,' she adds. Every black woman has a personal journey with her own hair, and for Knowles it began in her mother's salon which was a refuge — a 'spare bedroom so to speak' for her as a young girl. Growing up there was pivotal. 'I got to experience women arriving in one state of mind and leaving in a completely transformed way. It wasn't just about the hair. It was about the sisterhood and the storytelling.'"
And her love of the Orion constellation, which that braided crown alluded to as well.
Then Solange posted more images of Petit-Frére's work on her Instagram story, as a sort of appreciation for her work.
Mic has reached out to Evening Standard Magazine, which is getting plenty of heat in its Instagram comments. In the meantime, let's all agree on one thing: Don't touch nor edit Solange's hair.