Bush's attack of Trumpism shows how much Republicans have changed in 8 years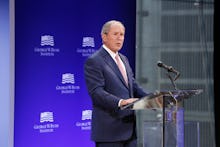 Welcome to Mic's daily read on Donald Trump's America. Want to receive this as a daily email in your inbox? Subscribe here.
Every day, we bring you a different dispatch on Trump's America. Today's focus: The GOP.
Friday's dispatch: How Republicans have changed
Whatever your opinion of the shift, how much the Republican Party has changed was on full display on Thursday.
On one hand, President Donald Trump was rounding out a week where he feuded with a Gold Star family, questioned whether past presidents called the families of fallen soldiers (they did), scuttled a bipartisan health care deal and looked, again, to withdraw from NAFTA.
But on Thursday, former President George W. Bush offered a point-by-point rebuke of Trump's politics without mentioning Trump by name. Bush spoke at a George W. Bush Institute event in New York City. Let's compare Bush's words to Trump's actions and proposals.
• Bush criticized "nationalism distorted into nativism." Trump has increased arrests of immigrants, is trying to make it more difficult to immigrate to the United States or receive asylum here, and may shut down the government to force construction of his wall.
• "We see a fading confidence in the value of free markets and international trade," Bush said. Trump has repeatedly bashed America's international trade deals, including NAFTA and the U.S. deal with South Korea.
• Bush added: "It is time for American institutions to step up and provide cultural and moral leadership for this nation." Trump's family has continued to expand its overseas business holdings, even as that may violate the Constitution. And Trump has been criticized for not showing leadership in Puerto Rico's hurricane recovery efforts, where more than 3 million Americans still lack power.
• Bush attacked the "conspiracy theories" that dominate modern politics. The Washington Post has found more than 1,300 false or misleading claims made by Trump in more than 260 days.
• "We've seen our discourse degraded by casual cruelty ... argument turns too easily into animosity," Bush said. Trump kicked off the week by saying "a lot of them didn't make calls," of past presidents to families of U.S. soldiers killed in action. That is not true. And the mother of a U.S. soldier said this week that Trump "did disrespect my son" with what he said in a condolence phone call.
• Bush painted the picture of a GOP open to immigrants, free trade, civility and leadership in civil discourse. Trump has championed an aggressive brand of politics that smears his enemies, other countries and people from other cultures, particularly immigrants.
Both Bush and his father, former President George H.W. Bush, did not vote for Trump in November. And the Bush family has long viewed Trump with disdain. But the implicit rebuke from the 43rd president of the 45th demonstrates how greatly the GOP has changed since 2008.
Today's question: How dramatic has the ideological shift been for conservatives between 2008 and now?
Please email us your thoughts at trumpsamerica@mic.com.
Friday in Trump's America:
As the White House was engulfed in controversy over Trump's call to a gold star family, chief of staff John Kelly defended the president on Thursday to the White House press corps. "It stuns me a member of Congress would have listened in on that conversation," Kelly said of Rep. Frederica Wilson (D-Fla.), who was in the car with the widow of a U.S. soldier killed in Niger when Trump called to offer his condolences. She later kicked off the latest firestorm by saying that Trump told the family that the soldier, Sgt. La David Johnson, "knew what he signed up for" when he enlisted.
CBS News has new details on the ambush in Niger that killed four American soldiers.
The Republican budget cleared the Senate. House leaders said they will accept it, paving the way for Republican tax reform efforts. They aim to pass their plan — with $1.5 trillion in tax cuts over a decade — by the end of the year. Eighty percent of those tax cuts would go to the top 1% of Americans, according to one study.
Former President Barack Obama appeared in New Jersey and Virginia on Thursday to support the Democratic gubernatorial nominees in those states. The Virginia race has tightened over the past week in a key test for Democrats.
Axios has a stunning graphic showing accusations of sexual assault against famous Americans, including Harvey Weinstein and Bill Cosby.
In a meeting Thursday with Puerto Rico Gov. Ricardo Rossello, Trump gave himself a "10" on his response to the crisis on the island. The numbers tell a different story.
A major story: How Trump's FCC has made it more likely Sinclair, a conservative company, can take over American broadcasting.
Preet Bharara, the former U.S. attorney with jurisdiction over Manhattan who Trump fired, says the president has been personally interviewing candidates to replace him.
The Army Reserves' banning of green card holders, first reported by Mic, sends "a chilling message" to immigrants, a veterans group says.
Today's MicBite:
Sen. Dick Durbin (D-Ill.) told Attorney General Jeff Sessions earlier this week that his focus on cutting funds to sanctuary cities would not help lower gun violence, especially in the city of Chicago. Tap or click the video below to watch.
Correction: Oct. 20, 2017