Uninsured rate rises to highest level since 2014, amid Trump's assault on Obamacare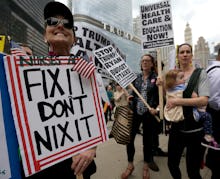 The number of adults in the United States without health insurance rose to 12.3% in the third quarter of 2017, the highest uninsured rate in three years, according to Gallup data released Friday.
According to Gallup, the uninsured rate has grown 1.4% since the end of 2016, when there was a record low uninsured rate.
"The percentage of adults without health insurance since the end of last year represents nearly 3.5 million Americans who have entered the ranks of the uninsured," Gallup said in a news release.
The climb began after President Donald Trump took office.
Trump has cut off subsidy payments and signed executive orders seeking to sabotage the Affordable Care Act — better known as Obamacare — in the hopes it will force Congress to repeal and replace the health care law.
Gallup says the increase in the number of uninsured is partially attributed to rising costs in the individual market.
However insurance companies blamed Trump and Republicans for the higher costs, saying they've created uncertainty around the law.
Congressional Republicans made multiple failed attempts to repeal the ACA throughout 2017, culminating in a final failure in September when Senate Republicans waged an unsuccessful attempt to pass the Graham-Cassidy health care bill.