A brief history of Trump's not-so charitable giving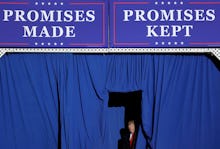 One of President Donald Trump's golf clubs said it donated $5 million to charity — but a recent NPR report found its actual giving was somewhere in the neighborhood of $800,000.
According to the report published Wednesday, more than a dozen organizations Trump National Golf Club in Los Angeles claimed to support financially could not verify they received anything. Several others listed on the club's website weren't actual charities, and those who could confirm donations mostly received small amounts, including non-cash contributions such as "a gift certificate for a round of golf or Sunday brunch for two."
The revelation came the same day the Washington Post reported that while Trump promised in June to give $25,000 to the bereaved father of a fallen soldier, he only recently sent the check.
It's part of a long pattern for Trump, who has consistently tried to paint himself as an "ardent philanthropist" but has frequently failed to follow through on his promises of generosity.
What Trump has given over the years
To be clear, Trump, whose net worth is estimated to be $3.1 billion, has made charitable donations to the tune of $7.8 million, according to Washington Post reporter David Fahrenthold, whose package of stories on Trump's charitable giving won the Pulitzer Prize in April.
Much of that giving was not out of his own pocket, but via the Donald J. Trump Foundation, through which he has made "a number of donations to veterans' groups, police department foundations and New York-area hospitals" — but, according to the Post, has not shown "the sustained commitments to specific institutions and causes that many wealthy people adopt in their giving."
Some of Trump's giving has been explicitly political. According to a New York Times article in 2016, Trump has directed foundation funds to conservative groups like Citizens United, which has regularly attacked Hillary Clinton, Trump's rival in the 2016 presidential election.
Some of his giving, though, has had a bipolar quality, as Inside Philanthropy noted in 2015; he has, for instance, donated both to the Gay Men's Health Crisis and to the Billy Graham Evangelistic Association.
As president, Trump has promised to forgo his salary, vowing to donate all of his paychecks. He has followed through so far, sending his first-quarter pay to the National Park Service and his second-quarter pay to the Department of Education — both of which have been targeted by his administration's proposed budget cuts.
Additionally, the White House said Trump had donated $1 million out of his own pocket to support Hurricane Harvey relief efforts, money he divided among 12 organizations.
What Trump hasn't given — and what he's taken
By and large, though, Trump's depiction of himself as a generous philanthropist has appeared — to borrow a phrase from the president himself — to be "fake news."
According to exhaustive reporting in the Post and elsewhere, Trump has instead spent years trying to cash in on an unearned image of a charitable billionaire — in many instances seeming to line his pockets along the way.
Based on his boasts, according to Fahrenthold, Trump's charitable giving should have totaled in the hundreds of millions of dollars — far more than the $7.8 million overall he appears to have spent in the last 3 1/2 decades, as identified by the Post.
Most of that — $5.5 million — was given to his foundation, which came under heavy criticism during the presidential campaign for its apparent self-dealing. New York attorney general Eric T. Schneiderman eventually served the foundation with a cease-and-desist letter in October 2016.
The Trump Foundation's alleged misuse of funds included spending hundreds of thousands of dollars to settle Trump's own legal disputes, purchase a life-size portrait of Trump and a signed Tim Tebow football helmet, and to make a $25,000 campaign contribution to the re-election campaign of Pam Bondi — the Florida attorney general who was mulling a probe into shady Trump University.
As the Post pointed out, the largest donation the Trump Foundation ever received was used to repair a fountain outside the Trump-owned Plaza Hotel. The smallest contribution — for $7 — was given to the Boy Scouts in 1989, seemingly to register Trump's son, Donald Jr.
This wouldn't be the last time Trump was accused of personally benefitting from purportedly philanthropic efforts.
In June, it was revealed Eric Trump's kids cancer charity has paid more than $1 million to the for-profit Trump Organization to use golf courses he previously said he could access for free, essentially channeling money intended for children with cancer to the family business.
"The listed expenses defy any reasonable cost justification for a one-day golf tournament," golf charity experts told Forbes at the time.
Meanwhile, Trump has given away less than one-third of what he's said he would, according to the Post — and appears to not have made a donation since 2009.
The exception to that, until his recent Harvey relief contribution, came in May 2016.
In that instance, Trump donated $5.6 million he fundraised, including $1 million of his own money, to veterans groups — months after the televised fundraiser that January and only after facing intense blowback over the delay.
According to NPR on Wednesday, Trump National Golf Club in Los Angeles struck its $5 million donation claim from its website in September and removed the list of organizations to which it claimed to have contributed.