A look at "the world's first Instagram travel agency" — and whether it actually works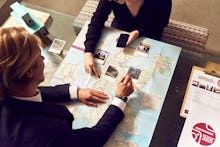 On Wednesday, Scotland's tourism board opened what they're calling "the world's first Instagram travel agency," which uses inspirational Instagram posts to plan trips. Visitors to the pop-up agency in London, which runs through tomorrow, can select from any number of filtered snapshots that decorate the walls, and then transform those choices into an actual travel itinerary.
Glossy photos and digitized slideshows have always served as travel inspiration, but on Instagram, all it takes is a single snapshot of a previously under-documented location (or even a new angle of that location) to go viral, and fellow travelers will follow. Mary Pilon's 2016 Wired article reveals what happens when travelers flock to the same spot or place the value of obtaining a photo over experiencing the subject of the photo.
Iceland is a dramatic example: In a handful of years it has grown into a top destination that is suffering under the weight of its own popularity. In the Facebook IQ 2017 study, 61% of those surveyed said that they use Instagram to plan their trips to a new place.
The #ScotSpirit Instagram Travel Agency provides something Instagram can't: a human element in the form of VisitScotland staff. This four-day event highlights not just ancient castles and fuzzy bovines, but also the need for actual knowledge from someone who knows the place well.
With that in mind, I sent VisitScotland five photos with a #ScotSpirit tag that grabbed my attention to see if they could help me plan something original and doable. I selected a train (because it's my favorite form of travel), some highland cows (or "coos"), a castle on a cliff, trees lit up with pretty colors, and lake water in a shade of blue that I've never seen before.
Overnight, they recommended a personalized 5-day road trip that circled through northern Scotland, taking about 10 hours of driving total. They included some of the locations I liked, including Cairngorms National Park and the Dunnottar Castle, while suggesting similar places that weren't directly tagged like Ballintaggart Farm and Duff House. One reason for suggesting a variety of locations is to alleviate the flocking phenomenon that happens when tourists depend exclusively on Instagram to build an itinerary. The tourism board recommended specific hotels for each town, and worked in my specific desires, like riding a train and seeing those highland coos.
Will some people be disappointed that they aren't getting a how-to of the exact photos they initially liked? Probably. But the literal approach isn't particularly functional, and it doesn't allow for the benefit of human knowledge — or factor in the reality of how to plan an enjoyable trip.