John Kelly called Rep. Frederica Wilson an "empty barrel." But he's the one who had his facts wrong.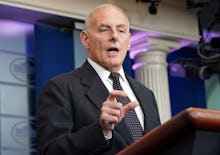 White House Chief of Staff John Kelly insulted a Democratic congresswoman on Thursday, accusing her of taking undue credit for her accomplishments and calling her an "empty barrel" — suggesting she is stupid.
During an appearance in the White House briefing room on Thursday, Kelly accused Rep. Frederica Wilson (D-Fla.) of taking credit for securing $20 million for an FBI field office that was dedicated in 2015.
Referring to Wilson, Kelly said: "A congresswoman stood up, and, in the long tradition of empty barrels making the most noise, stood up there ... and talked about how she was instrumental in getting the funding for that building, and how she took care of her constituents because she got the money, and she just called up President [Barack] Obama, and on that phone call, he gave the money, the $20 million, to build the building, and she sat down."
He made the remarks as he was attacking Wilson for having listened in on a phone call President Donald Trump made to the family of a soldier killed in Niger.
"And we were stunned, stunned that she'd done it," Kelly added. "Even for someone that is that empty a barrel, we were stunned."
However, Kelly was the one who got his facts wrong.
Wilson didn't take credit for securing the funding for that building during her speech, according to video footage dug up by the South Florida Sun Sentinel, a newspaper from Wilson's home state.
Instead, she talked about her role in helping get an FBI field office in South Florida named after two slain FBI agents.
"I will be presenting a copy of the bill that was signed into law to the FBI and also the pens that the president used to sign that hallowed document," Wilson said at a speech dedicating the building to the agents. "It is a miracle, to say the least, but it speaks to the respect that our Congress has for the Federal Bureau of Investigation."
On Friday, the White House walked back Kelly's comments slightly, saying he was talking about Wilson's remarks about the naming of the building — rather than the accusation that she took credit for securing funding for the project.
"If you're able to make a sacred act like honoring American heroes about yourself, you're an empty barrel," White House Press Secretary Sarah Sanders said in a statement Friday afternoon.
Wilson went on television Friday to defend herself from Kelly's attacks.
"You know, I feel sorry for Gen. Kelly. He has my sympathy for the loss of his son," Wilson said on CNN, referring to Kelly's son who died serving in the military. "But he can't just go on TV and lie on me."
Kelly's attacks on Wilson came during his attempt to clear up the controversy over Trump's call to the family of Sgt. La David T. Johnson, one of four Americans to die in an attack in Niger.
He said he was "stunned" that Wilson would have listened to Trump's call to Johnson's family — seemingly ignoring the fact that Wilson was a mentor to the fallen soldier and had known his family for years.
However, Kelly's own attacks on Wilson ended up prolonging the controversy and keeping the Johnson family in the news.