Fox News misrepresents report of sexual assault by a trans person in a private residence's bathroom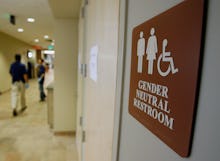 A transgender woman in Casper, Wyoming, was found guilty Wednesday of sexually assaulting a girl in a restroom in a residence — but readers of some media outlets wouldn't have been aware of that last crucial detail.
Michelle Martinez, whose birth name is Miguel, was found guilty of first-degree and second-degree sexual abuse of a minor by a 12-person jury, the Casper Star-Tribune reported, after an incident in March. She faces a possible sentence of up to 70 years in prison.
A 10-year-old girl reported to her mother that Martinez, a family friend, had sexually assaulted her in the bathroom of a residence. Nurses at the Wyoming Medical Center found evidence the girl had been sexually assaulted and Martinez was reported to have a blood alcohol content of 0.218 — three times the legal limit to drive — on the night of the assault, though Martinez denies the charges.
Fox News' initial account of Martinez's conviction, however, did not mention the location of the alleged assault, simply noting that "it was unclear whether the attack happened in a private or public bathroom." The Star-Tribune, which Fox News cited as a source, however, made it clear the attack had taken place in a residence, which likely wouldn't have public or gendered bathrooms affected by transgender bathroom laws.
The Fox News article has since been updated to clarify that the event took place in a home, but in initially leaving that detail out, the news outlet left room for speculation that the attack had taken place in a public restroom — adding fuel to the already dangerous transgender "bathroom predator" myth.
Commenters on Fox News' Facebook page used the incident as justification that Obama-era bathroom laws open the floodgates to violence and sexual assault.
"And that's what happens when you let liberal freakshows decide our bathroom laws," one commenter wrote.
The Daily Mail also left out that the incident took place at a residence in their report of the event — which had yet not been corrected, as of this writing — erroneously reporting that the assault occurred in a "women's bathroom."
Critics of the recent laws allowing transgender individuals to use the bathroom of the gender they identify with have pointed to this supposed prevalence of transgender "bathroom assaults" to justify their discrimination — even as evidence says otherwise.
According to CNN, 20 law enforcement agencies in states where transgender bathroom laws had been enacted said there had been no correlation between the laws being enacted and a rise in sexual assault.
PolitiFact confirmed only three cases in the U.S. in which men were convicted of assaulting women in bathrooms while dressed as women, though it was unclear if the assaulters identified as transgender. All three instances took place in areas that did not have laws protecting transgender bathroom rights.
"I know there is a lot of anxiety associated with this issue, but it seems to be based on fear rather than facts," Maine Human Rights Commission executive director Amy Sneirson told CNN. "Given this, it is really disheartening to see so many states (and now our federal government) choose to treat people who are transgender with what looks like hatred."
Rather than those sharing public restrooms with transgender individuals, it's most often the transgender person who's at risk of harassment or assault when they use a bathroom that aligns with their gender identity. A 2013 survey conducted by the University of California, Los Angeles, School of Law's Williams Institute found that 70% of respondents reported being denied access, verbally harassed, or physically assaulted in public restrooms. The National Center for Transgender Equality, similarly, reported in 2016 that 59% of respondents in the U.S. Transgender Survey had avoided public restrooms in the last year "because they feared confrontations in public restrooms at work, at school, or in other places."
By insinuating that Martinez's alleged assault could have taken place in a public restroom, these media outlets' reporting fuels transphobia and the myth that transgender individuals are the perpetrators, rather than the victims, of these public bathroom assaults — and with transgender individuals already at a far higher risk of being murdered than their cisgender counterparts, perpetuating that falsehood is a dangerous trend.