As Trump prepares to declare a state of emergency on opioids, cities hold their breath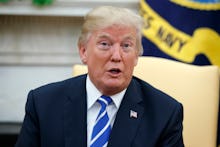 On Monday, U.S. President Donald Trump delivered his latest in a series of confusing statements on his plan to issue an emergency declaration over the nation's dire opioid crisis.
"That is a very, very big statement," he said of the supposedly impending declaration. "It's a very important step. ... We're going to be doing it in the next week."
It was a move that Politico reported came as a surprise to some of his top advisers, who now find themselves scrambling to come up with the finer points of a far-reaching plan that would potentially involve billions of dollars worth of federal funding.
"Everyone wants opioids to be a priority, but there's a lot of resistance to calling it an emergency," one unnamed senior administration official reportedly told Politico.
But as the Trump administration waffles on its strategy for implementing the emergency order, elected officials in cities across the U.S. — and the nearly 2 million Americans struggling with opioid addictions that they represent — continue to wait for help from the federal government that is desperately needed.
For the hardest-hit American cities, there's no time to waste on addressing addiction.
In a phone interview with Mic, Dr. Leana Wen, the health commissioner for the city of Baltimore, said that for cities particularly hard-hit by soaring rates of addiction, there's no time to waste in addressing the crisis.
"In our city we have two people a day who are dying from overdose," she said. "If this many people were dying from a natural disaster like a hurricane, or from a disease like ebola, there'd be no question that we would declare a state of emergency, especially because there is treatment that exists. We do know what works, and we just need the resources in order to get there."
For Wen — who two years ago issued a blanket prescription for the opioid antidote naloxone for all of Baltimore's 620,000 residents — the solutions to stemming the epidemic's deadly tide are already clear. The problem, however, is continuing to come up with the dollars and cents to fund those solutions.
"I would be looking to see, what exactly is the commitment to funding?" she said. "If a hurricane hits a community, it would be understood that billions of dollars would be required to rebuild homes and repair the infrastructure. So I want to hear, what exactly are the resources that the state of emergency declaration, if it comes, will entail."
Wen said that despite Republicans' stated commitments to tackling opioid abuse — which have included New Jersey Gov. Chris Christie being tapped to lead the president's commission on opioids and Trump himself frequently speaking of friends he has lost to the scourge of addiction — she hopes that they realize the impact that policy has on combating rates of overdose.
"I also hope that with the declaration will come a recognition that budgetary policies affect opioid prices," she said. "If we have proposals to cut Medicaid or to remove the requirement that insurance companies cover addiction treatment, that's counterintuitive, and that will only harm efforts to combat the epidemic."
But as White House officials grapple with the logistics of implementing the emergency directive, Jay Butler — Alaska's chief medical officer and president of the Association of State and Territorial Health Officials — offered a grim reminder:
"There are no silver bullets," he told Politico. "We can't get distracted on unicorn hunts thinking there's one solution to solving the complex issue of the opioid crisis. It's not a problem that will be quickly or easily resolved."