The undocumented Texas teen seeking an abortion must wait for a sponsor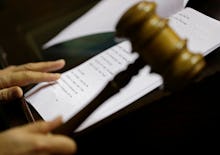 Judges with the Washington, D.C., Circuit Court of Appeals ruled Friday that the Department of Health and Human Services has until Oct. 31 to find a sponsor for an undocumented teenage girl in order for the abortion she is seeking to move forward, the Washington Post reported.
The 17-year-old girl, identified as Jane Doe to protect her privacy, crossed the border in early September and obtained a judicial waiver on Sept. 25 to receive an abortion in the state of Texas, where she is being held under HHS supervision, according to Brigitte Amiri, an attorney with the American Civil Liberties Union Reproductive Freedom Project, which is representing Jane Doe.
However, officials at the shelter where the girl is detained had referred her to a crisis pregnancy center, rather than an abortion clinic, and had not allowed the girl's attorney to transport her to her appointments.
Friday's ruling sidestepped a thorny constitutional question about the government's role in facilitating abortions for minors. Attorneys with the Department of Justice argued that the government had an interest only in "trying to promote the fetal health and life and promoting the life of the child," and providing basic care — not elective procedures such as abortions.
On Wednesday, Judge Tanya Chutkan had ordered federal officials to allow the girl to obtain an abortion no later than Oct. 21. But federal officials filed an emergency appeal.
At the hearing Friday morning, Amiri had argued that finding a sponsor for the girl could take too much time given that Jane Doe was already 15 weeks pregnant and Texas bans abortions after 20 weeks.
"Justice is delayed yet again for this courageous and persistent young woman. She continues to be held hostage and prevented from getting an abortion because the Trump administration disagrees with her personal decision," Amiri said in a statement Friday evening. 
"Our client and women across this country should be able to access a safe, legal abortion without federal officials stepping in to interfere. We are investigating all avenues to get justice for her," she added. 
Oct. 20, 2017, 7:29 p.m.: This story has been updated.