There may be a reason Trump keeps saying "Democrat" instead of "Democratic" in his attacks on party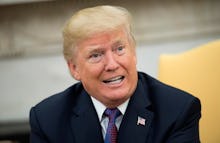 President Donald Trump on Saturday once again slammed Rep. Frederica Wilson (D-Fla.) over her characterization of his phone call with a grieving military family, tweeting that she is "killing the Democrat party."
Wilson stated earlier this week that in a phone call to Myeshia Johnson — the pregnant widow of fallen soldier Sgt. La David T. Johnson — Trump said her husband "knew what he signed up for ... but when it happens it hurts anyway."
In return, Trump has attacked Wilson as "wacky" and Chief of Staff John Kelly, whose own son was killed in combat, on Thursday slammed her as "selfish."
Why does Trump keep saying "Democrat?"
In his attacks on Wilson, Trump has referred to her as being a member of the "Democrat party" as opposed to the "Democratic Party" — a slight mislabeling that has long been regarded as a term of derision.
As the Washington Post pointed out in 2006, when George W. Bush chided members of the "Democrat party" on spending, the term has been used pejoratively since at least the 1940s.
The idea, according to the New York Times in 1984, is that "right-wing Republicans" feel the term "Democratic" implies that Democrats "are the only true adherents of democracy."
William Safire, the late political and linguistics columnist who wrote speeches for Richard Nixon, noted in 2008 that the term's "harsh ending" is similar to that of "bureaucrat" and has been used as an "attack technique" that is "still used because it drives Democratic Party members up the wall."
Frank Luntz, the pollster who coined Republican shorthands like "death tax," reportedly tested the term in a focus group in 2001, confirming that Democrats are, indeed, irritated by the term.
"Those two letters actually do matter," Luntz told the New Yorker in 2006.
Trump's references to "Democrat Congresswoman" Wilson aren't the only times he has deployed the term in recent days. He also tweeted Friday that he got "ZERO Democrat votes" on his budget.
His use of the term seems to be purposeful. In October 2015, in the early days of his presidential campaign, Trump tweeted that the Democratic debate should be called the "Democrat" debate.