Trump taking credit for already scheduled release of JFK files amid turbulent week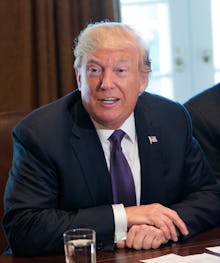 President Donald Trump announced Saturday that he will allow the opening of long classified documents on the 1963 assassination of former President John F. Kennedy.
Files on the shooting death of the 35th president more than 50 years ago were scheduled to be released on Oct. 26, 2017 — unless Trump blocked the declassification.
But several, including Sen. Chuck Grassley (R-Iowa), have encouraged Trump to allow the release of the documents.
The Kennedy assassination has been a perennial subject of fascination for conspiracy theorists.
Trump himself made headlines in 2016 when he suggested that the father of Sen. Ted Cruz (R-Texas) — his rival in the GOP primary — was possibly involved in the killing of the president in Dallas.
"His father was with Lee Harvey Oswald prior to Oswald's being — you know, shot. I mean, the whole thing is ridiculous," Trump said, referring to Kennedy's assassin, who was shot dead days after the killing. "They don't even talk about that. That was reported, and nobody talks about it."
Roger Stone, a former Trump adviser and close ally, has also floated his own outlandish conspiracy theories about the assassination, writing in a 2013 book that former Vice President Lyndon Johnson was complicit in Kennedy's death.
Trump's JFK announcement comes amid awful week
Trump is taking credit for the already-scheduled release amid an ongoing feud with Rep. Frederica Wilson (D-Fla.), who said the president told the grieving widow of a fallen soldier in a phone call that her husband "knew what he signed up for."
Trump has repeatedly attacked Wilson as "wacky," but her characterization of the phone call has once again opened up a wave of criticism regarding the president's relationship to the military. Trump — who did not serve — previously warred with a Gold Star family during the 2016 campaign and said that Sen. John McCain (R-Ariz.) was "not a war hero because he was captured. I like people who weren't captured."
Separately, he has also continued to face scrutiny over his handling of the hurricane crisis in Puerto Rico, for which he recently congratulated himself, saying that he would give himself a "10" on a scale of one to 10.
The president's critics have accused him of announcing the already-scheduled release of the JFK files as an attempt to distract from the issues he's facing.
The 1992 JFK Records Act mandated that the government open all the files related to the assassination within 25 years.
Kennedy was assassinated on Nov. 22, 1963, while traveling in a motorcade through Dallas. His killer, Lee Harvey Oswald, was shot dead on live television by nightclub owner Jack Ruby two days later in a Dallas police station.