This week in Trump-Russia news: Trump suggests he's the victim of a massive conspiracy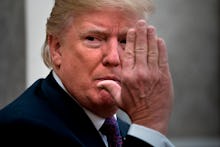 President Donald Trump this week took aim at the salacious dossier that alleged his campaign colluded with Russia, tweeting that the raw intelligence gathered by ex-British spy Christopher Steele is "fake."
"Who paid for it, Russia, the FBI or the Dems (or all)?" Trump wrote Thursday.
Here's what you need to know about Trump's gripes about the dossier — and everything else that happened in the Russia saga this week.
Trump attacks credibility of dossier
Trump's tweet about the Steele dossier was remarkable for a couple reasons.
First, he seems to be accusing the FBI of having worked against him during the campaign.
Second, he is outright suggesting that the FBI, Russia and Democrats all could have been players in a massive conspiracy against him.
The tweet is not only outrageous — it is also factually incorrect.
Though Trump has vigorously denied it, the dossier has not been "discredited," as Trump claimed Thursday.
On the contrary, both the FBI and Congressional investigators have verified elements of Steele's report. Additionally, its general thesis — that Russia intervened in an attempt to swing the 2016 election in Trump's favor — is supported by the United States intelligence community.
Significant questions do remain about the former MI6 agent's dossier, which was first made public in January — days before Trump's inauguration. It is not publicly known who funded the document, and its most lurid assertion — that the Kremlin has a tape of Trump watching a golden shower show in a Moscow hotel room — has not been publicly verified.
In an all-caps tweet after the report was made public, Trump said the claims in the dossier amounted to "fake news."
Steele's firm said Wednesday that staffers will refuse to appear before the House Intelligence Committee, which said earlier this month that it has "hit a wall" in its attempt to verify the dossier.
But investigators working for special counsel Robert Mueller met with Steele over the summer as part of his probe into possible collusion between the Trump campaign and the Russians.
Dossier firm hits Nunes over shadow probe
Speaking of the dossier, Fusion GPS — the firm behind it — have accused House Intelligence Committee Chairman Devin Nunes of conducting his own secret Russia probe.
In April, the California Republican announced that he was recusing himself from the Congressional Russia investigation amid accusations that he had committed ethical violations in the probe.
But that didn't stop him from issuing a subpoena to Fusion's bank for its financial records, the firm alleged in a court filing Friday.
Fusion is asking a federal court to throw out the subpoena, which they argue was a "blatant attempt to chill both speech with which Mr. Nunes disagrees and the free association of Americans working on a campaign against Donald Trump."
Sessions is "not sure" what he discussed with Kislyak
Attorney General Jeff Sessions is "not sure," but he thinks he could have talked about substantive issues in his contacts with then-Russian ambassador Sergey Kislyak, he said in an appearance before the Senate Judiciary Committee on Wednesday.
"I don't think there was any discussion about the details of the campaign," Sessions told his former colleagues in a tense testimony. "It could have been at that meeting in my office or at the convention that some comment was made about what Trump's positions were. I think that's possible."
Sessions' undisclosed contacts with Kislyak forced him to recuse himself from the Russia imbroglio a little more than a month into Trump's term — a sore spot for the president, who told the New York Times in July that he wouldn't have picked the former Alabama senator for attorney general if he'd known he'd remove himself from matters relating to Russia.
The Senate Judiciary Committee is conducting one of the four major Russia investigations.
Senate grills Russians from Don Jr. meeting
The Senate Intelligence Committee interviewed Russians who were at the infamous Trump Tower meeting with Donald Trump Jr. in 2016, Sen. Richard Burr (R-N.C.) told CNN this week.
Burr — the chairman of the panel — did not say which Russians his committee met with.
Trump Jr. — the president's eldest son — had agreed to meet with Kremlin-connected attorney Natalia Veselnitskaya in July 2016 under the belief that she had dirt on Hillary Clinton.
The Senate Intelligence Committee has already interviewed Jared Kushner, the Trump's son-in-law and senior adviser, and Paul Manafort, the president's former campaign chairman — both of whom were also present for the Trump Tower rendezvous.
Trump waffling on Mueller meeting
"I don't know."
That's what Trump had to say in a Friday interview with Fox Business Network when Maria Bartiromo asked him if he planned to interview with Mueller.
The waffling comes amid reports that the president's legal team has been seeking to adopt a more cooperative strategy on the Russia investigation in hopes Mueller will clear his name.
Trump — who has repeatedly dismissed the probe as a "witch hunt" — does not appear to be on the same page with the strategy, however.
On the contrary, he appears more determined to change the conversation, instead trying to suggest that it was not him who colluded with Russia, but Democrats.
"There is no collusion, I can tell you that," Trump told Bartiromo Friday. "Everybody's seen that."