Mitch McConnell says he'll bring bipartisan health care bill to a vote — if Trump will sign it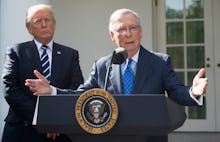 Senate Majority Leader Mitch McConnell discussed the future of a bipartisan health care bill in the works from Sens. Lamar Alexander and Patty Murray Sunday, saying he would only be open to bringing such a bill to a vote if it had the support of President Donald Trump.
The Alexander/Murray bill proposes a short-term solution to Trump's executive order ending Affordable Care Act subsidies, which would continue the federal subsidies for another two years and add in permanent changes that make some of the ACA's requirements more flexible.
In an appearance Sunday on CNN's State of the Union, McConnell said when asked if he would bring the bill to a vote that he was first "waiting to hear... what kind of health care bill [Trump] might sign."
"If there is a need for some kind of interim step here to stabilize the market, we need a bill the president will actually sign," McConnell said. "I'm not certain what the president's looking for here, but I'll be happy to bring a bill to the floor if I know President Trump would sign it."
Trump has gone back and forth on the bipartisan bill in recent days, CNN noted. The president said Thursday that he would support the bill as a "short-term solution" after tweeting just a day earlier that he could "never support bailing out" insurance companies through the proposed bill.
The proposed bill has support from both sides of the aisle, including Republicans such as Sens. John McCain, Bill Cassidy and Lisa Murkowski and prominent Democrats, including Sens. Al Franken and Tammy Baldwin. In an appearance on Meet the Press Sunday, Senate Minority Leader Chuck Schumer added his support for the bipartisan bill and called on McConnell to bring it to the floor for a vote, affirming that it already has 60 votes behind it.