5 key takeaways from Trump's interview with Maria Bartiromo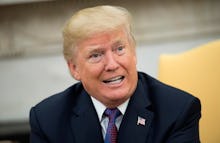 President Donald Trump appeared on Fox News Sunday in a wide-ranging interview discussing everything from tax reform to his Twitter habits.
Speaking with Maria Bartiromo, Trump laid out his thoughts on a number of issues currently facing his presidency, including his and Chief of Staff Gen. John Kelly's ongoing tension with Rep. Frederica Wilson, the conflict with North Korea and his continued commitment to border security.
Here are the key takeaways from Trump's interview.
Tax reform
Trump praised his tax reform plan and promised that progress would be made on it soon in Congress, telling Bartiromo: "I think the fact health care was so difficult makes taxes easier. Republicans want to get it done."
"I'm going to get it by the end of the year," Trump said, "but I'd be very disappointed if it took that long. It could be substantially less than that."
In response to criticisms that his tax plan would hurt the middle class, Trump reiterated his commitment to middle-income Americans, telling Bartiromo that "the middle class has really not done well over the last long period of time."
Pointing to himself as being "representative of rich people," Trump claimed he had even heard from his wealthy friends that rich people didn't even want tax cuts for themselves in the first place.
"You have to do us all a favor: Give the tax decrease to the middle class. We don't need it; we don't want it. Give it to the middle class," Trump said New England Patriots owner Robert Kraft had told him. "And I've had many people, very wealthy people, tell me the same thing. I've had very few say, 'I want more. I want more.'"
Trump also added that though he doesn't want to add a fifth tax bracket for the richest Americans, he would be open to adding one "if [he] feels the middle class is not being taken care of."
John Kelly and Rep. Wilson
Trump also discussed Rep. Frederica Wilson's ongoing criticism of the president's "disrespectful" call to a Gold Star widow, in which he reportedly said her husband "knew what he signed up for," and Chief of Staff Gen. John Kelly's defense of the president's call.
The president reiterated that he did not believe the call to be disrespectful, telling Bartiromo: "I was so nice. ... I've called many people, and I would think that every one of them appreciated it. I was surprised to see this, to be honest with you."
Kelly, Trump claimed, had been particularly taken aback by Wilson's criticism.
"He was so offended that a woman would be — that someone would be — listening to that call. He said to me, 'Sir, this is not acceptable,'" Trump claimed.
Primarily, however, Trump used the opportunity to praise his chief of staff, describing Kelly as an "elegant man and a wonderful man" who's doing a "fantastic job."
Though the president did not outwardly confirm recent reports that Kelly is "unhappy" with his White House position and is considering quitting, Trump did make it clear that the position is likely not where Kelly would prefer to be. When he asked about Wilson's response to Kelly's defense of the president, Wilson said Kelly would "say anything" to "keep his job."
"He doesn't need this job — in fact, he didn't really want this job. ... Actually, he would have preferred staying where he was," Trump said about Kelly. "He's not doing it for what he wants; he's doing it for the country. ... So when she made that statement I thought it was sickening, actually."
DACA and the border wall
In a discussion on border security and immigration, Trump said he was open to the possibility of "[doing] something with DACA" — but emphasized that building his border wall remains his key priority.
"We have to build a wall. ... What's happening with drugs in our country — and by the way, in the world, it's not like we're singled out — but it's never been like this, and a lot of the drugs come through that Southern wall. And we need a wall. We're going to have a wall," Trump emphasized, while promising a "big announcement" on drugs next week.
While the president said his administration is "working on DACA," Trump also made it clear that the fates of hundreds of thousands of DACA recipients would depend on Democrats' willingness to negotiate with Trump and appease Republicans.
"I'd like to do something with DACA, and we are negotiating right now with the Democrats, we'll see if we can come up with a solution," Trump said. "But I'll tell you, I and the Republicans are very open to it, but we have to get something in return."
China and North Korea
President Trump praised his relationship with President Xi Jinping of China Sunday, saying that he and the Chinese president have an "exceptional relationship."
"There was a recent article that said I have the greatest relationship of any president, the two of us, and I think we do. I really do. I don't want to be foolish — he's with China, and I'm with the U.S., so we start off with that. But we do have, I would say, an exceptional relationship," Trump said.
Trump pointed to his strong relationship with President Xi when discussing the situation with North Korea, telling Bartiromo that the Chinese "have been helping us" by cutting off banking systems and oil to North Korea, among other measures.
"China's really helping us, with respect to North Korea. Ninety-three percent of the things going into NK go through China. China is big stuff. I believe that [President Xi's] got the power to do something very significant with respect to North Korea. We'll see what happens," Trump said.
Though Trump praised China's intervention in the U.S.'s ongoing tension with North Korea, the president still warned of more dire actions.
"We are prepared for anything. We are so prepared, like you wouldn't believe. You would be shocked to see how totally prepared we are," Trump said.
"Would it be nice not to do that? The answer is yes. Will that happen? Who knows," he continued.
Twitter
Trump also defended his Twitter usage Sunday, saying that the platform — which he has used to hit back against his critics, make major policy announcements and inadvertently declare war with North Korea — allows him to combat the "fake media" and immediately respond to criticism.
"I doubt I'd be here without social media, to be honest with you, because there is a fake media out there, I get treated very unfairly by the media, and I have a tremendous platform," Trump said.
"So when somebody says something about me, I'm able to go 'bing, bing, bing,' and I take care of it. The other way I'd never be able to get the word out," he continued.
The president added that he personally doesn't call his Twitter posts "tweets," saying that "tweeting is like a typewriter — when I put it out, you [Bartiromo] put it immediately on your show."
Though the president's Twitter posts have misspelled such words as "tap," "wait," "unprecedented" and "heal" — as well as invent the word "covfefe" — the president also praised himself for his ability to create "well-crafted" tweets.
"You know, they're well crafted, I was always a good student, like a person who does well with that kind of thing," Trump said about his tweets.