Mic Wakeup: 3 stories from a slow Sunday that you need for your busy, busy Monday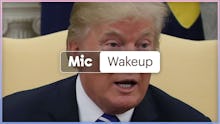 Unlike other hectic Sundays in Trump's America, yesterday was relatively quiet. But we've got you covered on the stuff that everybody else likely missed. Here's three stories you need to know for Monday, Oct. 23.
Trump gives an exclusive interview — and it's uncharacteristically restrained
Whether or not you think Trump's brash rhetorical stylings are the result of his unfettered honesty or a byproduct of, well, something else, it's difficult to dignify how singular it is in the otherwise buttoned-up Beltway. But his no-holds-barred manner of speech was conspicuously absent from a Sunday interview with Fox News' Maria Bartiromo. Perhaps that's why it was, for Trump, surprisingly substance focused — even if you disagree with the merits of that substance.
Here's five key takeaways from that appearance.
Wilson vs. Trump and Kelly soldiers on
It's the unlikely feud that keeps on going: On Sunday morning, Democratic Rep. Frederica Wilson of Florida appeared on MSNBC to criticize Trump and White House Chief of Staff John Kelly for their attacks on her. But while she played defense, Trump went on the attack, lambasting the member of Congress on Twitter.
This is still all the fallout from Wilson's claim that Trump was disrespectful to the grieving family of a soldier who died during an ambush.
Here's everything you need to know.
The uncertain future of the bipartisan health care bill
The Alexander-Murray bill is a stopgap with bipartisan support in the Senate. It aims to continue federal subsidies for the Affordable Care Act for another two years, hampering the damage done to them by Trump's executive order ending ACA subsidies.
Though proponents of the bill like Senate Minority Leader Chuck Schumer say it already has 60 votes, Senate Majority Leader Mitch McConnell won't bring it to the floor until he's certain that Trump will sign it. What will that take?