Hype List: What to check out this week, including Kelly Clarkson, 'Stranger Things,' Nikki Giovanni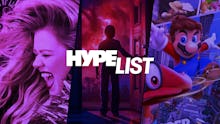 Welcome to the Hype List, a weekly recommendations series in which columnist Tirhakah Love highlights all of the pop culture happenings — movies, music, television, books and more — that you need to know about.
TV: Stranger Things 2
It's no accident that the second season of Stranger Things is being billed as Stranger Things 2. Netflix is leaning into the idea that the sci-fi/horror nostalgia trip is a bona fide blockbuster franchise, and this sophomore outing is the first of several sequels. The new episodes pick up a year after the events of the first season — in 1984, as if the boys' sudden fascination with Ghostbusters isn't enough of a tip-off — as the small, fictional town of Hawkins, Indiana, is attempting to return to normalcy.
But, of course, that can't happen. Instead, Stranger Things creators Matt and Ross Duffer put their characters through "different kinds of horror," as Nancy and Mike are mourning the disappearances of Barb and Eleven, respectively, and Will is having visions of a giant shadow monster. So, like with all sequels, expect everything to be bigger and more blown-out than before.
Stranger Things 2 will be released Friday via Netflix.
Music: Ihy by Iman Omari
Singer-producer Iman Omari melds fragile romance and heavenly soundscapes in ways that seems boundless. After he released a decade's worth of work in half the time — 10 projects (including solo EPs, albums and beat tapes) over four years — the Inglewood native's star really began to rise when Kendrick Lamar borrowed his 2015 instrumental, "Omari's Mood," during the opening of a stunning performance performance at the 2016 Grammys.
Now, to hear Omari himself tell it, his latest effort, Ihy (named after the Egyptian god of music), represents "the next step forward" in his musical and spiritual maturity. For a sample of what to expect, check the first single "Move Too Fast," which features bits of cinematic imagery — Champagne, broken glass, blue moons — and the syrupy alto of singer Anna Wise. Lessons in life and love will percolate aplenty on this steamy joint.
Ihy will be released on Tuesday via Fresh Selects.
Book: A Good Cry: What We Learn From Tears and Laughter by Nikki Giovanni
As a crucial figure of the black arts movement, Nikki Giovanni has penned some of the most politically relevant poetry of the last century. In our current political climate, we might think we want a vitriolic takedown of white-male oppression, but in her latest collection, Giovanni provides us with an irrefutably black perspective — one so rich with introspection and memory that it sheds the need to consider a white gaze at all. With A Good Cry, Giovanni confides in us the grim scenes she saw as a child in an abusive home, the reverence she has for her contemporaries and the sadness she felt following the 2014 death of her friend and fellow poet, Maya Angelou. Sometimes, crying is the first step toward making things feel whole again.
A Good Cry: What We Learn from Tears and Laughter will be released on Tuesday via HarperCollins Publishers.
TV: Fearless
Amazon's new legal thriller Fearless is actually a U.K. original, which means you can bet on a few things: It will be brief, the plotting will be knotty and it'll be anchored by a strong lead performance. All three appear to be true with this six-episode series, created by Homeland writer and executive producer Patrick Harbinson. Peaky Blinders MVP Helen McCrory stars as Emma Banville, a lawyer with a reputation for taking on long-shot cases, and in the show, she tries to exonerate the convicted murderer (Sam Swainsbury) of a teenage girl.
At the risk of some light spoilers, we'll say that Banville does achieve some measure of success, but the case exposes her spotty past with a corrupt intelligence agency — which places her professional and personal life at risk. Aside from being a crime story and a conspiracy yarn, Fearless is also a downward tumble into the hazardous depths of the messiah complex, and McCrory's acclaimed performance promises to reveal that her character is nowhere near as noble or redeemable as she might seem.
Fearless will be released on Friday via Amazon Video.
Video Game: Super Mario Odyssey
Every time there's a new 3D Mario game, it's an event. Fans count on a mixture of quirky gameplay mechanics — see: the always-changing laws of gravity in Super Mario Galaxy and its sequel — and good ol' platforming, the kind that Nintendo has built its empire upon. The plumber's latest adventure, Super Mario Odyssey, offers a large helping of both for new and old gamers to dig into.
It drops the iconic character in unfamiliar territory — the wondrously rendered New Donk City, which, unlike previous settings, is populated by humans and Goombas alike — and equips him with a magic hat. Players have free reign to explore New Donk City's open world, and the hat lets them possess and play as characters not named Mario. This is the freest we've ever seen Nintendo's mascot (shoutout to his #FreeTheNipple campaign). If you've been holding off on buying a Switch, delay no further.
Super Mario Odyssey will be released on Friday via Nintendo.
Music: Meaning of Life by Kelly Clarkson
Listeners who lost track of Kelly Clarkson after her mid-2000s heyday will be in for quite a shock if they cross paths with her eighth album, Meaning of Life. Her first proper full-length since fulfilling her contract with RCA (a deal she signed after winning the first season of American Idol), the new LP finds the 35-year-old singer in a position to explore new creative directions — which is how she was able to tap Earth Wind and Fire to back her newest single, "Love So Soft." That track marries the Southern R&B stylings of the past with the present-day polish of millennial pop, and Clarkson sounds at peace with the union. This album is a straight-up powerflex for Clarkson, meant to grab the attention of anyone who thinks pop has passed her by.
Meaning of Life will be released on Friday via Atlantic Records.