What are the best banks for 2017-2018? How to switch accounts to get higher interest and lower fees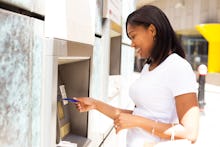 Average ATM fees hit yet another all-time high in 2017, and a new Bankrate survey suggests inertia is one of the main reasons people aren't switching banks — a costly default if you could find an account with more favorable terms, like ATM reimbursements. The average checking account customer has had the same account for about 16 years, the personal finance site found.
That number is somewhat skewed by older consumers — about 3% of respondents have had the same account for 50 years or more — but there's also evidence that younger consumers are most likely to get a raw deal.
About 28% of millennial consumers pay an average of more than $26 a month in checking account fees overall, including for ATMs, overdrafts and general service, Bankrate found, the highest proportion of any age group. To add insult to injury, people making less than $30,000 a year are also more likely to pay for falling below a bank's minimum balance or not using direct deposit.
Changing your bank can be annoying, to be sure. You have to make sure outstanding checks have cleared, move all your money over, change automatic payments to your new account, and fill out a form or write a letter to close your old account. And if you switch to an online bank, you can't even take any money out until you get your new ATM card in the mail.
But doing so could save you hundreds of dollars a year. Just go step by step: To ensure you have enough money in the account to cover outstanding bill payments, experts recommend switching accounts one at a time — first a savings and then a checking account, for example. Particularly if you aren't earning much interest, finding a new savings account is a good place to start.
To help you make the move, Mic combed through the latest rankings from Bankrate, NerdWallet, Kiplinger's and the Simple Dollar to find the best banks for savers, frequent ATM-users and more. All were published in recent months, with the Bankrate data, also analyzed by Money, just out Monday.
Best banks for high interest: Checking and savings accounts that grow your money
A lot of the best interest-paying checking accounts are with regional banks, or in accounts with very high minimum balances, meaning they aren't going to be widely available to most people.
Still, online banks — which have lower overhead costs — often offer interest-paying checking accounts that have a far higher payout than most large banks, which typically offer between 0.01 and 0.05%. Memory Bank, EverBank and Aspiration all offer high-yield checking accounts that pay 1% APY or more, although they do have minimums to hit that full benefit.
If you're just in the market for a savings account, Goldman Sachs Bank USA and Synchrony Bank both have options that come with no account minimum and 1.3% APY. Because of its high interest, NerdWallet named Goldman the best savings account for 2017.
Best online banks
Online banks often come with more consumer-friendly policies regarding interest rates and fee structures, with the drawback that they usually don't have a wide network of ATMs you can use or as many branches where you can find customer service in person, if you want it.
The Bank of Internet was Bankrate and Money's recent pick for best online bank, because it combines generous interest on its checking account (1.25%), access to cash-back offers and no monthly service fees. Ally Bank has a similar set of offerings — plus $10 a month in ATM reimbursements — and was the top pick for online bank from Kiplinger's and the Simple Dollar.
Best banks if you're broke
Because it has no fees or minimums the Bank of Internet was also Money's pick for best bank accounts for people who don't have a lot of money. If you're constantly looking for a place to withdraw cash, however, you'll want an option that has lots of branches.
KeyBank has no monthly or overdraft fees, but its checking account doesn't pay any interest either.
Best conventional retail bank
Big retail banks typically don't pay high interest, but make up for it with a large retail presence and a much broader array of products. Many online banks, for example, don't offer loans, investments or credit card products. There are also typically signup bonuses of up to $300 as well as well as bonuses for having multiple accounts.
Chase Bank was NerdWallet's most recent pick for best national retail bank, because of its large network of ATMs and generous sign-up bonuses for people who open more than one account. Bankrate and Money, on the other hand, preferred Capital One because it offers much higher-paying checking and savings accounts, though it also has a much smaller network.
If you want more tailored options for where you live, check out Money's list of the best banks in every U.S. state. And while you're shopping around for new debit plastic, it might be worth a peek at Payoff's roundup of top credit cards.
Sign up for the Payoff — your weekly crash course on how to live your best financial life.