'Playboy' defends its decision to feature transgender Playmate Ines Rau amidst backlash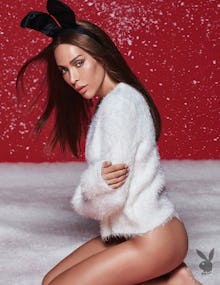 On Thursday, Ines Rau made history as the first out transgender Playboy Playmate. Featured in the November issue, which has Hugh Hefner on the cover, Rau poses with bunny ears and talks about her life, her career and her identity.
But as with any groundbreaking moment, there will be people averse to change — like former Playboy TV host Jenna Jameson. That's something Rau found the day the news broke.
"I have a lot of support from my friends and people in the fashion industry. They're writing nice messages," Rau said in an interview with Mic on Thursday. "But a lot of transphobic comments are coming in. I'm deleting them, I'm not going to lie. Those comments honestly make me even more happy and proud to be in Playboy. It's very good that a magazine like Playboy is doing its part for transgender awareness. I honestly didn't know there was so much hate around."
As hateful, transphobic comments streamed into Rau's feeds, Playboy had her back, first with Playboy's chief creative officer Cooper Hefner, Hugh's son, issuing a statement on Twitter about a "more open world."
"We should collectively be fighting for a more open world, not one that promotes hatred and a lack of acceptance," he wrote.
Then, the Playboy Twitter account weighed in, comparing the treatment of Rau — and the comments the magazine's received thus far — to the comments and letters received after it featured Playboy's first black Playmate, Jenny Jackson, in 1965.
"In March 1965, we featured Jenny Jackson, our first black Playmate," Playboy wrote. "Many fans revoked their subscription or returned the issue."
As shown by Playboy, both moments caused some subscribers to write into the magazine too. In a letter shared with its Twitter followers from 1965, a reader wrote in: "Integration has reached into schools, all forms of business and now it seems to have taken over Playboy... never did we expect this."
And in a social media post in 2017, after Rau's inclusion, a reader wrote: "This isn't what Playboy is about. It has (and used) to have pictures of women. I wouldn't want to read an article about horses in a fishing magazine either."
The similarities are striking. And to think, all this comes after Rau has been featured in the magazine before, in 2014, and other out transgender women have been featured in Playboy too, like Caroline Cossey, who appeared in a solo shoot in 1991 .
"History repeats itself," the magazine tweeted out with a picture of Jackson.
And then, as a final word on the issue, posted a picture from Rau's spread with a pointed: "Standing on the right side of history."
Mic has reached out to Playboy for further comment on the backlash it's seen, but there's something to be said for a magazine — in this era — standing so strongly in support of Rau and women like her.
As Cooper Hefner told the New York Times: "I didn't make that decision based off of whether or not individuals who were paying for products or are fans of the brand are going to be satisfied with it. I made the decision because it was the right decision to make, regardless of the comments that come out."