Singapore to lower the number of cars allowed on its roads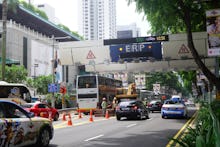 Singapore already limits the number of cars are used within its borders. Now it's bringing that number even lower.
According to Bloomberg, the Singapore government plans to reduce the number of certificates of entitlement issued — the certification required to own a car. The change would bring the growth rate of new cars on the road in 2018 to zero, in order to reduce congestion in the country. Public transport and vehicles carrying goods will, however, continue to grow at 0.25%.
Singapore's new vehicle management is mainly a response to the country's population density problem. Singapore's entire land mass is 276 square miles with a population of 5.6 million. For perspective, the closest countries in landmass are Bahrain and the Federated States of Micronesia, both housing 656,000 and 136,000, respectively. Along with limited space, the system of certificates to drive also offers eco-friendly benefits, folding in with the country's carbon tax.
Could the same come to the U.S.? Not in the near future. Car limiting is "not currently legal [and] makes no sense for 99.9% of the U.S. land form. It would never be publicly acceptable," Mark Hallenback, data science fellow and director of University of Washington's Transportation Center, said in an email.
We will likely see some measures taken in the name of vehicle reduction. "Instead, look for more 'car free zones' in dense urban areas," Hallenback said. "A great example of a pedestrian only zone is Denver, which is a very car-centric city."
The certificate allowing Singaporean residents to drive lasts 10 years. The certificates are auctioned off twice per month with prices hovering around $35,000 or more, according to Quartz.
Abigail Cochran — Ph.D student at the regional planning department of University of California, Berkeley — is also skeptical that we'd see the same come to the U.S. "The closest congestion management strategies we might leverage in the United States include congestion pricing in which we charge users in high-demand travel areas in effort to reduce congestion," Cochran said over email. Though the U.S. may want to rethink its vehicle policy.
Cochran pointed out that a reduction in cars could have multiple benefits. "Disinvesting in road infrastructure is not only a sustainable space-saving solution, but could also promote vitality in other areas." The less money there is poured into roads, the more the government can use in other ways.
Singapore's infrastructure is among the most efficient in the world, in part because of the country's government constantly urging private companies to invest in infrastructure.
The U.S. and other countries could take a lesson from Singapore's certificate method. If not for the congestion or the air pollution benefits, then for having more money to spend elsewhere. Fewer drivers means more driving the economy.