A "purge" at the DNC shows Sanders vs. Clinton divisions are still not healed for Democrats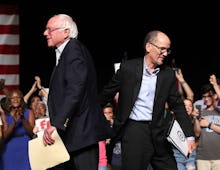 Welcome to your daily read on Donald Trump's America. Want to receive this as a daily email in your inbox? Subscribe here.
Every day, we bring you a different dispatch on Trump's America. Today's focus: The Democrats.
Monday's dispatch: The DNC "purge" shows the party is a long way from unified
The feud between the Sanders and Clinton wings of the Democratic Party was on full display last weekend as Democratic National Committee chairman Tom Perez announced the ouster of several Bernie Sanders loyalists from the DNC.
Four top Democratic Party operatives were removed. They either backed Sanders over Hillary Clinton last year or backed Rep. Keith Ellison (D-Minn.) in his bid against Perez for DNC chair. James Zogby, president of the Arab American Institute, was kicked off the DNC's executive committee — a role he has held since 2001.
Perez also appointed 75 "at-large" DNC members who were largely establishment Democrats and Clinton loyalists. This riled progressives in advance of this weekend's DNC meeting. "It's a lot of really good people who deserved better," Zogby told the Washington Post of those being removed.
Influential party committees are now led by a majority of Clinton supporters. For example, the committee that will have a role in deciding the future role of superdelegates — the unpledged, establishment Democrats who can vote for any presidential candidate and drew the ire of Sanders supporters last year — has five Clinton-appointed members and no Sanders-appointed members.
These shake-ups came in advance of the DNC's first meeting since Perez became chair early this year. At that gathering, progressives notched some wins. The party voted to not accept corporate contributions from companies whose values did not align with the DNC. Progressives also defeated a measure that would have urged independents, like Sanders, to join the Democratic party.
This comes as the party continues to take flak from an energized progressive base. Last month, Our Revolution president Nina Turner told Mic that Democrats had "lost their soul." Progressive grassroots groups like Indivisible, MoveOn, Planned Parenthood and others have driven thousands of actions and millions of calls and emails to oppose GOP legislation. Silicon Valley activists are working overtime to elect Democrats. And in special elections, grassroots groups have organized thousands of volunteers.
Here's the subtext to this dysfunction: The Republican National Committee has outraised the DNC by nearly 2-to-1 this year. Sanders has not helped the Democratic Party apparatus with fundraising, nervous about giving his small-dollar donor machine over to party leaders who opposed him. Major donors have stopped writing checks and small-dollar fundraising has lagged behind Republicans.
The key question: With dysfunction and lackluster fundraising, how effective can the Democratic Party be in supporting candidates? What does this mean for elections next month? For regaining a foothold in states in 2018? And to have a shot at taking either chamber in Congress?
Today's question: How do you think Democratic Party divisions will affect the party's chances in key elections?
Please email us at trumpsamerica@mic.com with your thoughts.
This week in Trump's America:
The House is expected to pass a budget resolution that was passed last week by the Senate. That sets up the opportunity for Republicans to advance tax cuts. Under their current proposal, which analyses say would largely mean tax cuts for wealthier Americans and large companies. Trump put the pressure on the House GOP on Sunday.
On Tuesday, Trump will dine with senators. The detente between Trump and Republican senators may produce a breakthrough on health care — or it may not. Trump flip-flopped last week on whether he'd support a bill that would extend health insurance subsidies for two years. (He said he supported the deal, then trashed it on Twitter.) On Sunday, Sen. Mitch McConnell (R-Ky.) said he'd put the bill or one like it to vote if he knows Trump will sign it. So stay tuned.
Watch this: Sen. John McCain (R-Ariz.) says it was wrong for wealthy Americans to get deferments from Vietnam, including for "bone spurs." Trump received a deferment because of a bone spur.
In an interview with Fox News that aired Sunday, Trump said he remained open to a deal on the Dream Act — if it includes funding for his border wall with Mexico. Democrats still maintain that's a nonstarter. That keeps DACA recipients on the bubble.
Major corporations will again pressure Congress this week to act to protect DACA recipients. But the timeline for action is not expected to be swift.
Caveat to today's lead: At the local level, Democratic House candidates are surging past many Republicans in fundraising. Three dozen GOP incumbents were outraised by Democratic challengers in the third quarter of 2017. And at least 162 Democrats have raised more than $100,000 to challenge Republicans in 82 GOP-held districts.
Rep. Frederica Wilson (D-Fla.) feuded further with Trump over the weekend. She said Chief of Staff John Kelly owed Americans an apology for his defense of the president. Trump tweeted that Wilson exemplified why people do not vote for Democrats.
Today's MicBite:
The PTA in a Mississippi city decided to change the name of a local elementary school from Jefferson to Barack. That move removes a name given in honor of Jefferson Davis, the president of the Confederate States of America, and moves it to Barack Obama, America's first black president. Tap or click the video below to watch.