Teddy Quinlivan talks her banner Fashion Month, coming out as transgender and what lies ahead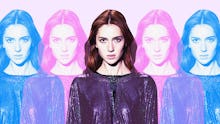 Teddy Quinlivan and Fashion Month were nearly synonymous this season. Walking in a whopping 27 shows, with 11 in New York, seven in Milan and nine in Paris, there's an excellent chance that at your favorite show this season — whether that be Carolina Herrera, Louis Vuitton, Chloé, Versace or Gucci — Quinlivan was there, strutting her stuff.
Quinlivan had a particularly momentous month, given the fact that she came out as transgender just as New York Fashion Week was coming to a close, in an article on CNN.
"It's felt really incredible," Quinlivan said in an interview with Mic. "It feels incredibly normal at the same time too. I've been waiting my whole life to reveal to the world that I was transgender. And then I did and people applauded it and then after a while it was just a little detail they didn't [previously] know. I would show up to a show and someone who didn't know would be like, 'Congrats on coming out, now you can go to hair and makeup.'"
As normal as this month felt for Quinlivan, who has been working in the industry for years, she couldn't help but get emotional at at least one show: Versace.
"One of the touching moments I had was at the Versace show, where they brought up all these supermodels — Carla Bruni, Naomi Campbell," Quinlivan said. "To do that and be out and to be in that lineup, to be the first openly transgender woman to walk for Versace and to do it amongst some of the greatest supermodels to ever live, was an extremely emotional moment for me."
Quinlivan was quick to note that although she was the first out transgender model to walk for Versace, she didn't feel like a token.
Given that many transgender models have to fight against tokenism — saying they've felt used because of their identity — the Versace show felt like an undeniable win.
"It was a celebration of Gianni Versace, who designed clothes for these strong women, and in a way, me being a part of that casting was a way to push the world forward to show that trans women can be models on that platform," Quinlivan said. "I was there not because I was a token trans girl. I was there because Donatella [Versace] liked me, liked how I walked and liked how I looked in the clothes. I didn't feel like I was there because I was transgender. I got there because I was good at my job, because I deserved to be there regardless."
By simply being a part of that show — let alone all the others during Fashion Month — Quinlivan is proving that trans models are really just, you know, models. There's no need to tokenize them or separate them from the rest.
"I think [this Fashion Month] does prove a little bit of something," Quinlivan said. "I wanted to be a hero and a role model for trans girls who didn't have a role model, or don't have one yet. We have so much more exposure than we ever have. And by coming out I wanted to show people that my trans identity doesn't necessarily change the way I'm treated or looked at, especially in a negative way."
Quinlivan is extremely lucky — and in the minority — in that she hasn't really seen any negative backlash to her coming out as a public person. Although other women definitely have — like Ines Rau, who just recently became the first out transgender Playboy Playmate — Quinlivan has managed to come out to little — if any — outrage or controversy, which proves a point too.
"I just wanted to prove that transgender people have existed in these spaces whether we knew or not, forever," Quinlivan said. "Our transness doesn't make us incapable or allow us to not perform at our best."
With this level of privilege though, Quinlivan said that she should be an activist too, and speak out about not only transgender women in fashion but the issues facing trans women all over the world every day. "Activist" is a title she's more than happy to embrace.
"I never thought in a million years that I'd be an activist. But then again, I never anticipated being a model either," Quinlivan said. "I've always wanted to make the world a better place, and then the opportunity arose for me to make the world a better place in a small way. There's no obligation for people to come out or be activists, but if you can and have the means to, you should because we're an oppressed people. The more we share our humanity with the world, the more people will understand that we're not to be treated as other and we deserve to be treated equally."
"The more we share our humanity with the world, the more people will understand that we're not to be treated as other and we deserve to be treated equally."
In coming out, not only has Quinlivan's name gotten immediately associated now with "activist" but also "transgender model." That modifier is very likely going to live with her forever, but to Quinlivan, that just comes with the territory. Given what she's been through thus far, it's frankly a label she's proud of.
"I'm a model. I'm a woman. But being transgender is also part of my life and existence. One day the hope is nobody gives a shit about that anymore, but I knew that was something attached to my name forever," Quinlivan said. "When I wasn't coming out, I was asking myself, 'Why am I not coming out?' In the beginning I was made to feel like being trans was something that was shameful, and something to hide. I was told by multiple people I work with that i should conceal it. And then I was like, that sounds really fucked up."
Now that she's embracing it wholly, Quinlivan is looking to the future, and not just in terms of the fashion industry.
"If there's anything this season has proved to me, I think the industry was always willing for transgender models to be there as long as they met the requirements for their show," Quinlivan said. "We're capable of doing anything a cis person can do and more. I hope the world becomes a better place for people like me and the LGBTQ people in general. I would like our country and the west to set an example for the rest of the world as we do in so many ways. We deserve to be treated as equals."
But looking more in the immediate future, there is something else that Quinlivan would like to lend her voice to. Amidst the Harvey Weinstein scandal, and models in the fashion industry coming forward with their own stories of sexual abuse, assault and harassment, Quinlivan would like to start sharing her own stories too.
"Me coming out as transgender wasn't just for transgender people, but also for women," Quinlivan said. "When I was living my life as cisgender, there was a ton of horrible, really highly inappropriate things that happened to me in the fashion industry. I just think it's important for me to also talk about the fact that there is a lot of crazy shit in terms of power plays and sexual harassment that goes into this business. I've experienced a lot of it. I want to use my platform now to also talk about the fact that this bullshit doesn't just happen in Hollywood. It's happening in fashion, to young girls. It's happened to me."
With a bigger platform than ever before, and a career that's only growing more legendary, Quinlivan is ready to make her voice heard loud and clear.