As new Bill O'Reilly allegations emerge, the network's former stars criticize Fox News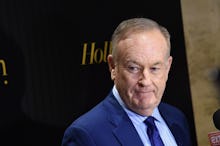 New allegations emerged against former Fox News anchor Bill O'Reilly Saturday, as the New York Times revealed that O'Reilly made a $32 million settlement payment for sexual harassment in January — before having his contract renewed by the network.
The settlement, which was reached with former Fox analyst Lis Wiehl, is at least the sixth sexual harassment agreement settled against O'Reilly or Fox News, after five other allegations were revealed in April, leading to O'Reilly's termination.
According to the Times, 21st Century Fox and its top executives, Rupert Murdoch and sons Lachlan Murdoch and James Murdoch, didn't know the amount of the settlement, but were aware of Wiehl's complaints against O'Reilly. The executives made a "business calculation to stand by" O'Reilly, the Times noted, especially as one of the Fox News's other top personalities, Megyn Kelly, was preparing to leave the network.
While O'Reilly maintains that the allegations against him are "crap," other current and former personalities at Fox News are acknowledging that O'Reilly — and Fox News — were in the wrong.
Kelly devoted an entire speech to the O'Reilly allegations during Monday's episode of Megyn Kelly Today, even revealing a complaint she had personally made against the Fox News host.
"O'Reilly's suggestion that no one ever complained about his behavior is false. I know because I complained," Kelly said Monday, citing an email that she sent in November 2016 to Fox News co-presidents Bill Shine and Jack Abernethy about O'Reilly's behavior towards women. O'Reilly became defensive during a television appearance when asked about Kelly's chapter on former Fox head Roger Ailes's sexual harassment charges in her book.
In the email, which Kelly said she decided to release "because I think it speaks volumes about powerful men and the roadblocks one can face in taking them on," Kelly wrote:
Perhaps he didn't realize the kind of message his criticism sent to young women across this country about how men continue to view the issue of speaking out about sexual harassment. Perhaps he didn't realize that his exact attitude of shaming women into shutting the hell up about harassment on grounds that it will disgrace the company is, in part, how Fox News got into the decade-long Ailes mess to begin with.
Perhaps it's his own history of harassment with women, which has, as you both know, resulted in payouts to more than one woman, including recently, that blinded him to the folly of saying anything other than, "I'm just so sorry for the women of this company who never should've had to go through that."
Kelly condemned Fox News's treatment of her complaint Monday, saying: "By 8 p.m. that night, O'Reilly had apparently been dealt with, and by that I mean he was permitted, with management's advance notice and blessing, to go on the air and attack the company's harassment victims yet again."
The former Fox host also called out the network's media relations head, Irena Briganti, for her "vindictiveness" against "certain Ailes accusers," including Kelly.
"It gives me no pleasure to report such news about my former employer, which has absolutely made some reforms since all of this went down," Kelly said on Megyn Kelly Today.
"But this must stop. The abuse of women, the shaming of them, the threatening, the retaliation, the silencing of them after the fact. It has to stop."
In an emailed statement to Mic, 21st Century Fox said, "Irena is a valued colleague and she has our full support."
Gretchen Carlson, who brought sexual harassment charges against Ailes, called Fox News' willingness to continue working with O'Reilly "outrageous" in a Sunday appearance on CNN.
"It's horrifying and outrageous that any company, after dismissing somebody for allegations such as that, would not only re-sign a contract but allow that person to come back on the air," Carlson said.
While the network's former female stars have been the loudest voices speaking out against O'Reilly and Fox News, even one of the network's current male anchors conceded Fox made a mistake in keeping O'Reilly on despite the allegations.
On Sunday, Fox News anchor Howard Kurtz acknowledged the O'Reilly allegations on the air, as guest Matthew Belloni of the Hollywood Reporter suggested that the executives at Fox had "looked the other way" when it came to the allegations against O'Reilly.
Though Kurtz acknowledged that the network had made progress, citing efforts to hire more female employees, the host described the allegations as a "significant setback" for Fox News.
"There's no doubt about it. It's embarrassing. It's disappointing that O'Reilly was given a new contract under these circumstances," Kurtz said. "I hope it doesn't impede the progress the company is trying to make — which, in the end, the company did fire its biggest moneymakers."
Oct. 24, 2017 9:32 p.m.: This story has been updated.