This grandmother is serving a life sentence for a nonviolent offense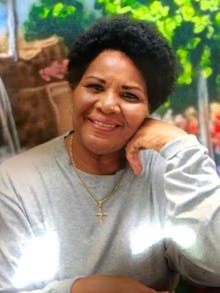 Alice Marie Johnson is a 62-year-old mother, grandmother and great-grandmother. In 1996, after a jury trial, Johnson was convicted of nonviolent drug conspiracy charges and sentenced to life in prison without parole.
Oct. 31 will mark 21 years in prison for Johnson. Mic spoke exclusively with Johnson via video call from Aliceville Correctional Institution in Aliceville, Alabama, where she currently resides. Johnson reflected on her experience serving a life sentence without parole.
According to the ACLU, Johnson is one of 3,278 people serving life without parole for a nonviolent offense, meaning she will die in prison. Like Johnson, 79% of these people are drug offenders and 65% are black. The majority of these sentences were mandatory, meaning judges had no discretion over the length or severity of the sentence and were held to laws defining a minimum number of years for drug offenses.
For life without parole sentences like Johnson's, clemency is almost the only hope. This kind of release from prison can only be granted by the president.
On Dec. 20, 2016, President Barack Obama granted clemency to 231 individuals. Johnson was not one of them. Johnson's case meets the criteria for clemency, yet has been passed by three separate times.
In response, Johnson is working to mount support for criminal justice reform.
"Please wake up, America, and help end this injustice. It's time to stop to stop over-incarcerating your own citizens. Because that is what is going on," Johnson said.
Watch Johnson's op-ed here:
For more information on the movement to free Alice Johnson, visit mic.com/alice.