Members of Trump's own opioid commission worry he won't make an impact on the crisis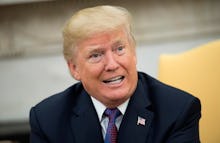 President Donald Trump is expected to make a "major announcement" on the opioid crisis sometime in the near future. But a member of Trump's own team is making an announcement of his own: Don't get your hopes up.
On Monday, Patrick Kennedy, a former member of Congress who is currently a member of the President's Commission on Combating Drug Addiction and the Opioid Crisis, told Washington Post columnist Greg Sargent that even close allies of the president don't expect much to happen when it comes to combatting the opioid crisis.
Kennedy reportedly told Sargent that New Jersey Gov. Chris Christie, the head of the commission, was among those who did not have confidence in the president.
Kennedy claims that Christie told him that if Trump "doesn't recognize this as the issue of our time," then "his presidency is over."
Christie later denied having ever made those comments, calling them "false."
In July the commission released a report urging the president to declare the opioid crisis a state of emergency. In August a reported asked Trump whether or not he would in fact declare a state of emergency.
The president responded by saying, "The opioid crisis is an emergency, and I'm saying officially, right now, it is an emergency." This prompted many to wonder if he actually understood what it meant to "declare" a federal state of emergency.
Earlier in October Christie told the Associated Press that it was "not good" that the president had thus far not yet made any formal declaration.
On Oct. 16, the president teased that he would be making a "very important step" on the opioid crisis the following week, leading many to expect a formal state of emergency in the coming days.
But a report in Politico suggests that the president's teased announcement came as a complete surprise to his close advisers, some of whom still disagree on what should actually be done.
Now the country waits with bated breath to see what, if anything, the president actually plans to announce by the end of the week.