The one stat that shows what Asos is doing right as fashion moves away from brick and mortar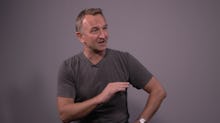 Though it has not avoided the occasional controversy or our sartorial side-eye, Asos, which became one of the very first e-commerce sites when the brand launched in 2000, has made indisputable strides toward successfully diversifying the fashion world.
In 2016, the brand outfitted British athletes at the Paralympic Games. At the start of 2017, it addressed a major gap in the retail market by launching plus-size and tall sections for men. In April, it developed an initiative to help people find well-paying jobs in one of the poorest areas in Kenya. In June, it made headlines for proudly displaying models with stretch marks on its website. Most recently, it announced an inclusive beauty campaign, featuring a range of models of varying genders, colors and sizes.
It's clear Asos has been a leader in showing that inclusivity is not only ethically important, it's profitable.
"The founder [Nick Robertson] was really clear on what he wanted," Asos CEO Nick Beighton said in an interview at Mic HQ. Beighton took over the company in October 2014, when Asos, now at 3,600 employees, had a total staff of just 178. "[Robertson] said, 'This is not just going to be a business that sells more clothes than anybody else. This is going to be the business that stands for something. Profit will be in output but the most important thing is, look in customers' eyes, give them amazing fashion and do it with integrity.'"
According to the brand, this ethos has paid off. It has experienced 34% sales growth in 2017, and is on track for 25% to 30% more growth in 2018. And now it's setting its sights on the United States, where the Asos market is growing at twice the rate as in the United Kingdom. The company is even opening a new U.S. warehouse and distribution center in Georgia, which will make shipping faster and, more importantly to many, cheaper.
Though one factor alone cannot demonstrate this staggering rise in growth, there is an undeniable way in which Asos might be leading an overhaul of how we shop. It comes down to one key statistic: Though Asos does not own or operate a single storefront, the majority of its sales do not come from its website, but from its mobile app. In fact, 70% of all global traffic is credited to its mobile app.
"Five years ago that was zero," Beighton said. "But then we realized, you've got to have your products and your experiences right where 20-somethings are going to be hanging out and they are hanging out on their phones. That was a big bet that paid off."
Another bet that paid off is quantity. Every day, 85,000 styles are available on the website, with 5,000 new styles going live every week. "That's the equivalent of one store per week," Beighton said. "We're a bit crazy with it. We don't repeat. When it's gone, it's gone." That means 85% of their products turn on a six-week cycle.
Asos guarantees such high turnaround by recognizing the irrelevance of the home page, in favor of serving up a more personalized experience using artificial intelligence. Is there any possibility of future brick-and-mortar locations or, at the very least, a pop-up shop? "Never say never," Beighton said. "But it's not on our radar right now.
One exciting innovation currently being rolled out in the U.K., and expected to hit the U.S. sometime in 2018, is visual search. It's simple, yet revolutionary: You snap a photo of a garment you like and Asos will find something similar to it available on its website. Visual search can also be used while parsing through a magazine and while scrolling through Instagram, Snapchat or Pinterest. "We think the best technology powers human behavior rather than [getting] in the way of human behavior," Beighton said.
With 900 brands currently featured on the website, there must be room for up-and-coming designers to be seen. "Last year we added 200 new ones," Beighton said. "If the customer agrees, we buy more. If the customer doesn't agree, it's gone."
So how can the newbies catch Beighton and his team's eye? "If you're a young designer with talent, look for the Fashion Discovery. That's like the dragon's den for designers. We've gone global with the Fashion Discovery program. If selected, you'll get to sit down with me and 10 other designers and we choose your design. We back you with financing. And then we put you on our website and off you go."
Watch the full interview with Beighton below: