Here's what you need to know about the latest allegations against Hollywood director James Toback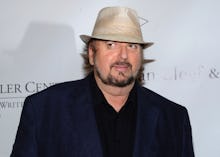 The Los Angeles Times published a report on Sunday detailing allegations of sexual harassment by Hollywood director James Toback — from dozens of women who described their experiences to the paper.
The new report comes less than a month after a bombshell report from the New York Times that alleged Hollywood producer Harvey Weinstein had sexually harassed and abused women for decades. That report seemed to launch a national conversation about harassment and assault: Countless women, and men, opened up about their own experiences using the hashtag #MeToo.
The new report about 72-year-old Toback — whose behavior seems to have been the source of rumors for years — is, in many ways, another version of an all-too-common refrain: a powerful man who used his position to exploit young women, and an industry that tacitly permitted his behavior. Here's what you need to know about the latest allegations against Toback.
Thirty-eight women told the Los Angeles Times that Toback had sexually harassed them.
A total of 38 women described alleged harassment by Toback to the Times, and 31 of them spoke to the paper on the record. One was still in high school when the alleged abuse took place.
Toback allegedly name-dropped his Hollywood projects to his victims.
Part of Toback's alleged pattern was name-dropping his work to young women, especially those who wanted to act or work in the entertainment industry. According to the Times report, Toback's "opening line" was often along the lines of, "My name's James Toback. I'm a movie director. Have you ever seen Black and White or Two Girls and a Guy?"
Toback wrote and directed many of his projects, including Two Girls and a Guy, Black and White, Harvard Man and When Will I Be Loved. He earned an Academy Award nomination for best original screenplay for the 1991 film Bugsy, a biopic of Bugsy Siegel that starred Warren Beatty and Annette Bening.
He often mentioned these projects to his alleged victims, they told the Times, and also claimed to have "invented" actor Robert Downey Jr.
The women described many of the same patterns.
The women who spoke to the Times said Toback often tried to talk about sexually explicit topics, bringing up the sex scenes in his films. In one account, he allegedly approached Sari Kamin at a Kinko's in Manhattan, New York City, and said he wanted to cast her in a film. Several dinners later, she said, he invited her to a hotel room and tried to rub his crotch against her. Kamin fled the room.
In another account, actress Terri Conn, who was 23 at the time, said Toback offered to discuss his creative work with her. They met in Central Park, where he allegedly rubbed himself against her leg, ejaculated into his pants, and then asked her to meet him for dinner.
Several women described Toback ejaculating in front of them. Some of the women who spoke to the Times said they quit acting after their experiences with Toback.
Toback has denied the allegations in the Times.
According to the Times report, when contacted about the allegations, Toback denied them, saying he hadn't met the women who came forward about their experiences, or if he had met them, it "was for five minutes" and he had "no recollection" of their meeting.
Toback also told the paper that it was "biologically impossible" for him to have done the things the women alleged, saying he has diabetes and was on heart medication. According to the Times, he declined to elaborate.
There may be more women coming forward.
In a Twitter thread, Glenn Whipp, the Los Angles Times reporter who wrote the story, said he initially found victims through the #MeToo hashtag.
Since publishing his report, he said on Sunday, 16 more women had contacted him about Toback.