Candice Huffine brings body positivity and size inclusivity to activewear with Day/Won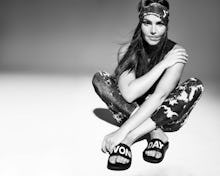 As a model for more than a decade now, Candice Huffine knows a thing or two about working out. And as plus-size woman, she knows that plenty of people don't think women who look like her work out at all.
With a new activewear line called Day/Won, Huffine is on a quest to tear that stereotype down and show that not only do plus-size women work out, but they want to look damn good doing it, too.
"It's important to shatter stereotypes on a regular basis," Huffine said in an email. "By that I mean it is a tragic misconception to assume that women above a certain size do not enjoy moving their bodies and being active, so I want that woman to know I see her, and Day/Won is here for her."
The first Day/Won collection is comprised of bandanas, tank tops up to a size 5XL and leggings, which are available in sizes 0 to 32. No piece is more than $100. On one pair of leggings, an encouraging "you got this" is printed across the side.
"Apparel for all bodies is something I've always been a champion of, because I believe continuing to ignore a woman above a size 12/14 or limit her options only perpetuates the standard that beauty, health and worth are reserved for the 'perfect' slim body — a notion I work tirelessly every day to erase," Huffine said.
With 17 years now in the industry herself, this foray into design is a big deal for her.
"I've been a model for 17 years and dreamed of designing for that long as well," Huffine said. "It was really just a matter of time, and I'm very proud of Day/Won as my first collection."
Huffine's Day/Won is coming at a time when body positivity is just reaching into activewear, with brands like Addition Elle and Lane Bryant addressing the void of athletic-wear above a size 12.
"I want to continue spreading the message that women above a size 12 or size L deserve the same things that are offered to single-digit counterparts," Huffine said. "No separate collections with limited options necessary. Expand the line you make already. To me, it's the most basic concept — to serve all women, because why wouldn't you?"