Melania Trump kicks off anti-bullying campaign while husband feuds publicly with military widow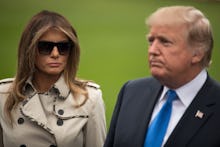 First lady Melania Trump's anti-bullying campaign began in earnest Monday with a visit to a Detroit middle school in honor of the national "Week of Inclusion."
According to a White House press release, Trump's appearance at the weeklong event — held in October in honor of National Bullying Prevention Month — included speaking to students and sitting with them as they ate lunch.
"As part of my ongoing commitment to the overall well-being of children, I am looking forward to today's visit," Trump told reporters ahead of Monday's appearance at Orchard Lake Middle School. "By our own example, we must teach children to be good stewards of the world they will inherit. … It is our responsibility to take the lead in teaching children the values of empathy and communication that are at the core of kindness, mindfulness, integrity and leadership."
After her husband's surprise win in the 2016 presidential election, Trump chose bullying as the signature issue she planned to champion during her time in the White House.
"As adults we are not merely responsible, we are accountable," Trump said during a speech given to the UN General Assembly in September. "I hope you will join me in recommitting ourselves to teaching the next generation to lead and honor the golden rule, do unto others as you would have [them] do unto you."
In spite of her pledge to help young victims of bullying, many have been quick to point out the irony of Trump's proximity to her husband's rhetoric, with his divisive Twitter presence serving as a particularly noteworthy contradiction. In fact, as Trump sat down to dine with middle-school children, lecturing them on the importance of compassion, the president himself was embroiled in a days-long war of words with Myeshia Johnson, the pregnant military widow of Sgt. La David Johnson. Earlier Monday, Myeshia Johnson had accused the president of forgetting her husband's name during a call to offer his condolences after her husband was killed in action.
But according to Trump's director of communications, Stephanie Grisham, the president's actions have little affect on his wife's stated initiatives.
"Mrs. Trump is independent and acts independently from her husband," Grisham said during an interview with CNN. "She does what she feels is right and knows that she has a real opportunity through her role as first lady to have a positive impact on the lives of children."