Why Howard University Homecoming is my annual black joy ritual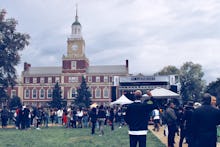 I have the post-homecoming blues bad. This past weekend was my eighth Howard University Homecoming, and it's hard coming down from the high of reveling in a safe space of unapologetic blackness and then returning to the real world, where I can't escape the burden of racism as a black woman.
By now, I thought I'd be over the festivities. It's a running joke with alumni that they swear "this year will be my last." But each return home reminds me why I and other alumni will never quit the 93-year-old tradition. In the six years since graduating from Howard, the alumni celebration has become one of my annual black joy rituals. It's a family reunion, fashion show and healthy debauchery for alumni of all ages. Most important, the fellowship is a refreshment to my emotional, mental and spiritual well-being, especially in the age of Trump, post-recession struggles and the ever-present inherited plight of being black in America.
Homecoming 2017 began when I hopped on a 7 a.m. bus to D.C. Friday. I saw a familiar face, my friend James, who I met at a school organizational fair during my sophomore year. The man next to him gave up his seat so we could sit together. The jokes or "the cutting up" commenced.
During the three-hour bus ride, he and I reminisced on the old days and had an in-depth conversation about cherishing work-life balance. I also shared my experiences with emotional abuse in past dating situations and he reaffirmed to me why I should never settle for less than what I deserved in love. Once we reached Union Station, he and I continued the conversation over lunch before separating. I knew the likeliness of seeing him again during the weekend was low because of the large crowds, so I was grateful to have spent one-on-one time with him.
By Friday afternoon, I walked on campus for Yardfest, an annual music festival on Howard's upper quadrangle, aka "the Yard." This year felt different because I recognized less faces — which also meant I'm getting older. But as my friends and I sat down on the steps of the Fine Arts building, I felt back at home. We people-watched, admiring the younger students rocking and strutting the elaborate styles across the yard. Occasionally, I heard our alma mater's call and response, "H-U! You Know!" chanted in the distance.
While on the Yard, one theme in conversation was the post-recession economy and how it's affected our lives since graduating five or six years ago. I revealed to my friends my freelance woes and how difficult it's been to manage from day to day, especially while scrapping for emotional and mental support. One friend, who has her master's degree, disclosed she has been working two jobs to make ends meet and help out her parents. Another friend, who is working on her Ph.D., was in the process of moving in with a roommate to save money.
We weaved in and out of these heavy conversations while also laughing about the good things happening in our lives such as newfound love, travels and questioning where we would hit happy hour after Yardfest. For once, I forgot about anxiety, an issue I've been battling on and off for the past few months. As the sun set on the yard, the DJ played "Before I Let Go" by Frankie Beverly and Maze, and the huge crowd broke out into an electric slide. The song remains a staple to close out every great black gathering and this was no exception.
On Saturday, I met up with one of my best friends before we walked to Howard's center parking lot on Georgia Avenue for the annual Howard tailgate. There, hundreds of people, mostly alumni and many visitors, come here to further reunite with friends. On our walk over, she unpacked to me why she had quit her job in politics to work as a saleswoman at a car dealership. She needed a break from a sexist environment to breathe and think through her next move. I was happy to encourage her as she stepped into this unconventional path for the sake of her sanity.
While at the tailgate, which was a blur due to the massive crowd and pre-gaming, I was pulled into the freedom and beauty of black culture flourishing around me. On one end of the parking lot, trap music blasted from the speakers. Under another tent, there was a DJ spinning afro-beats. Some attendees showed Bison pride by wearing Howard T-shirts. Others wore their Divine Nine sorority and fraternity paraphernalia. I spotted friends wearing politically woke T-shirts: One read, "Across cultures, darker people suffer most. Why?", a quote from rapper André 3000; another quoted Issa Rae's Emmys red carpet interview, "I'm rooting for everybody black." There was also black love: A man proposed to his girlfriend while surrounded by his fraternity brothers and was met with applause from the rest of the Howard family who witnessed.
Before ending the weekend on Sunday, I visited one more former Howard classmate. He and I caught up on the fun and fails of the weekend and later spoke about the reality of life outside of the Mecca. He vented about racism on his job and how the stress from it pushed him to see a therapist. We discussed the gentrification of the city, especially how much U Street near Howard is now catering to a more white and richer clientele since we were in school a decade ago.
As I closed out many of these conversations, it was obvious we had no immediate solutions to the changing world we see around us. But we knew we would have to keep on doing the next best thing. This past weekend allowed me to revisit how important black friendship is to doing just that. The inevitable waited for us Monday morning. But it was a relief to know that we have each other to get through all the Mondays ahead, via text messages, group chats, social media and some trips and meet-ups in between — until next Homecoming weekend.