Niger Ambush: Joint Chiefs chair gives new info on attack that killed U.S. Sgt. La David Johnson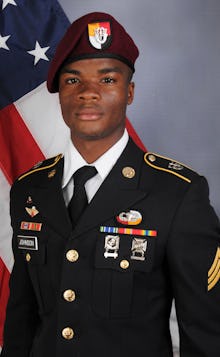 On Monday evening, Joint Chiefs Chairman Gen. Joseph Dunford briefed the public on the deadly ambush on U.S. forces in Niger that killed U.S. Sgt. La David Johnson and three other American soldiers.
"I think we owe the families and American people transparency," Dunford said of the attack.
According to the chairman of the Joint Chiefs, 50 ISIS fighters ambushed the American troops as they returned to their base from a "planned reconnaissance mission." An unnamed U.S. official told CNN that the ambush on Oct. 4 killed four Americans and five Nigerian soldiers; it also wounded two American soldiers.
Speaking during his public briefing at the Pentagon, Dunford explained that it took the American soldiers an hour to call in backup, possibly because they thought they could contain the threat on their own.
"It's important to note when they didn't ask for support for that first hour, my judgment would be that that unit thought they could handle the situation without additional support," Dunford said. "And so well we'll find out in the investigation exactly why it took an hour for them to call."
The general noted that he was aware of speculation that the soldiers had deviated from their mission as planned, affirming that military investigators were looking into what, exactly, went wrong.
"It was planned as a reconnaissance mission," Dunford said. "What happened after they began to execute, in other words, did the mission change? That is one of the questions that's being asked. It's a fair question but I can't tell you definitively the answer to that question."
President Donald Trump's condolence call to the grieving family of Johnson, one of the soldiers killed in the ambush, has been at the center of a political firestorm after Democratic Rep. Frederica Wilson claimed his words, however well-meant they may have been, upset the family.
According to Wilson, Trump told Myeshia Johnson, the fallen soldier's pregnant widow, that her slain husband "knew what he signed up for ... but when it happens it hurts anyway."
Though the White House pushed back on the Democratic representative's account, Johnson appeared on Good Morning America Monday to confirm Wilson's story.
"It made me cry because I was very angry at the tone of his voice and how he said it. He couldn't remember my husband's name," she said. "I heard him stumbling on trying to remember my husband's name and that's what hurt me the most, because if my husband is out here fighting for our country, and he risked his life for our country, why can't you remember his name?"
In response, Trump quickly tweeted his own version of the phone call, claiming that did, in fact, say the dead soldier's name.