Firm from Ryan Zinke's hometown lands $300 million power grid contract in Puerto Rico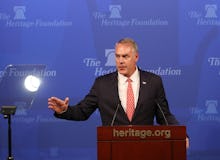 On the day Hurricane Maria made landfall in Puerto Rico, Whitefish Energy, a firm based out of Interior Secretary Ryan Zinke's hometown in Montana, only had two full-time employees. But the Puerto Rico Electric Power Authority reportedly chose to give the tiny Montana firm a $300 million contract to repair its storm-damaged electrical grid — forgoing its usual network of support in the process.
According to Susan Tierney, a former senior official at the Energy Department, PREPA's decision to eschew the larger utilities with which it has a long-standing "mutual aid" agreement for Whitefish Energy raised questions.
"The fact that there are so many utilities with experience in this and a huge track record of helping each other out, it is at least odd why [the utility] would go to Whitefish," Tierney told the Washington Post. "I'm scratching my head wondering how it all adds up."
But according Andy Techmanski, chief executive for Whitefish Energy, it actually all adds up quite simply. In an interview with the Post, Techmanski affirmed that he'd been in contact with PREPA weeks prior to Maria's devastating strike on the island, and that the $300 million contract emerged naturally from those pre-emptive discussions.
Though Zinke and Techmanski acknowledge that they do know each other from Whitefish, Montana, the town Whitefish Energy is based in, both men claim that Zinke had nothing to do with Techmanski's firm securing the massive PREPA contract.
But though neither claims the former Montana congressman helped with the contract, NBC Montana reported that Techmanski did reach out to the Department of the Interior to seek its help in "[freeing] up more resources."
"Once the company got the go-ahead from PREPA on Sept. 26 to begin work, company executives did reach out to contacts in case they could help expedite getting qualified linesmen to the island," Chris Chiames, spokesperson for Whitefish Energy, told the Post.
But a spokesperson for Zinke's office explained that nothing came of those pleas.
"The secretary always politely listens when citizens and the small business community approach him with concerns and ideas," the Interior Department said. "Neither the secretary nor anyone in his office have taken any meetings or action on behalf of this company."
According to the Daily Beast, Joe Colonnetta, founder and general partner of HBC Investments, the private equity firm that funds Whitefish Energy, donated tens of thousands of dollars to the Trump campaign.
The Post reported that the House Committee on Natural Resources is scrutinizing the contract between Whitefish Energy and PREPA.
"The size and unknown details of this contract raises numerous questions," Parish Braden, a spokesperson for the House committee, said. "This is one of many things the committee is taking a close look at as it continues to work with the resident commissioner, governor's office and oversight board to ensure Puerto Rico's recovery is robust, effective and sustained."
Almost 80% of Puerto Rico remains without power about a month after the storm made landfall.