Trump hits Corker again on Twitter. Corker says he regrets endorsing Trump. How did they get here?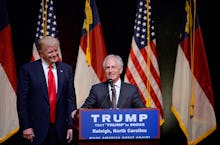 President Donald Trump "has great difficulty with the truth" and is hurting the United States, Sen. Bob Corker (R-Tenn.) said Tuesday, saying that he regrets having supported him in 2016.
"I don't know why he lowers himself to such a low, low standard and debases the country the way he does, but he does," Corker told CNN. "It's unfortunate that our nation finds itself in this place."
When asked by CNN correspondent Manu Raju if he regretted supporting Trump in the 2016 election, the senator said, "Let's just put it this way: I would not do that again." When Raju rephrased the question to ask if he'd support the president again, Corker replied: "No way."
"He's obviously not going to rise to the occasion as president," Corker said.
He later added: "The debasement of our nation is what he'll be remembered most for."
It was the latest serving in the long-simmering beef between Corker and Trump, who tweeted Tuesday that the Tennessee Republican is "negative on anything Trump" because he refused to endorse him.
Trump's latest lash-out on Twitter came as Corker called on the White House in an NBC interview Tuesday to "step aside" and let Congress take the lead on tax reform, which the president has been talking up as one of his top priorities. Corker also said during the Today interview that Trump has been undermining United States diplomatic efforts in North Korea in a way that could lead to world war.
Trump's jabs also come as he heads to Capitol Hill on Tuesday for what's been described as a "GOP unity effort."
Corker — who will not be seeking re-election in 2018 — has emerged as one of Trump's fiercest critics in recent months.
He strongly criticized the president's "many sides" remarks after the deadly white nationalist rally in Charlottesville, Virginia, telling reporters that he has "not yet been able to demonstrate the stability nor some of the competence that he needs to demonstrate in order to be successful."
He has also repeatedly indicated that he believes Secretary of State Rex Tillerson, Secretary of Defense James Mattis and White House chief of staff John Kelly have been necessary to contain Trump, saying that the trio "help separate our country from chaos."
In turn, Trump has mocked the senator as "Liddle Bob Corker" and claimed that he "begged" him for his endorsement — and is only not running for re-election because he failed to score his endorsement.
It wasn't always this way, though.
Corker praised Trump during the 2016 race and campaigned with him in North Carolina.
He also urged his fellow Republicans in May of last year to "chill" with their worries that Trump was unfit for office, telling CNBC that he'd seen "a great deal of evolution" with the then-GOP hopeful and that "a lot of people who have been resisting will become more comfortable." He was even rumored to be a potential pick for Trump's running mate and — after Trump's unlikely election win — for secretary of state.
But Corker has become a vocal critic of Trump, lamenting earlier this month the fact that the White House has become what he called an "adult day care center."
Some have suggested that he is conducting a "slow-rolling public intervention" with Trump and expressing publicly concerns about the president that many others in the GOP have expressed only privately.
Trump continued to attack "lightweight" Corker — just hours before he was set to meet with Republican lawmakers to build unity on health care and taxes.
Corker, meanwhile, did not back down, issuing his own counterpunch, tweeting: "Same untruths from an utterly untruthful president. #AlertTheDaycareStaff."