People are hosting Facebook screaming parties to mark the 2016 election anniversary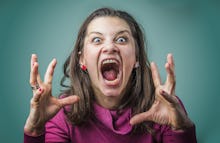 We all deal with existential dread in our own ways, but thousands of people plan to come together on Nov. 8 — the one-year anniversary of the 2016 presidential election — to show the universe how they really feel about our current political climate. By screaming. A lot.
It all started with a Facebook event in Boston titled "Scream helplessly at the sky on the anniversary of the election," which now has more than 4,600 people marked as "attending" and 33,000 more "interested." (Of course, since anyone can RSVP, who knows how many people planned to actually show up.) In the time since that event page launched, several copycat events with similar titles have popped up in cities like New York, Philadelphia and Austin, all of which seem to be garnering significant amounts of RSVPs.
"Join us cucks and snowflakes, safe spacers and libtards, as we enjoy a collective cathartic yell into the heavens about our current political establishment," the New York event page says.
In a sudden twist of fate, the Boston scream event announced in a Facebook poll Tuesday that the event was canceled.
Perhaps the interest might've grown a little too large for its own good. Johanna Schulman, the Boston event's organizer, told Mic through a private Facebook message that the event was closed "due to logistical and liability challenges."
"Organizers are working to determine if an alternative event could be designed in a way to mitigate those challenges," Schulman said. "Clearly, there is a desire on the part of many Americans to express their opposition to the Trump administration on the anniversary of the election."
Strange as it may seem, this ritual of cathartically screaming en masse is nothing new. For example, a Facebook event called "Scream like Goku in front of Washington Square Arch," hosted on Sept. 1 in New York City, garnered 1,200 RSVPs. Similarly, Harvard University has a long-standing "primal scream" event before final exams for students to relieve stress. In recent decades, however, Harvard's "primal scream" has mostly involved running in the nude through campus.
The history — and questionable science — of screaming your stress out
According to Thomas Plante, Ph.D. and professor of psychology at Santa Clara University, the phenomenon of screaming to relieve stress likely has its roots in a psychology trend from the 1970s called "primal therapy," in which patients were encouraged to scream and act violently to release inner turmoil.
"The research doesn't support" the effectiveness of primal therapy "in terms of actually helping people cope with anxiety, depression, anger, stress, whatever," Plante told Mic in a phone interview.
However, Plante did note that group scream events like those organized throughout the U.S. are likely a helpful way to relieve stress, simply because it's an activity that encourages group cohesion.
"It's not so much that there's any research that's going to say engaging in this event is going to make you feel better because you're screaming," Plante added. "There is research to support … group cohesion around doing something together with one voice — whether it's screaming, marching or singing an inspiring song."
And if there's one thing America needs, it's stress relief. According to the annual stress survey conducted by the American Psychological Association, Americans' stress levels increased for the first time in a decade between August 2016 and January 2017, with a majority of respondents citing the current political climate as a "very or somewhat significant" contributing factor.
So, scream your hearts out, folks. Just make sure you do it with some buddies for the full effect.
Oct. 24, 2017, 1:23 p.m. Eastern: This story has been updated.