Cate Blanchett: "You know we all like looking sexy but it doesn't mean we want to f*ck you"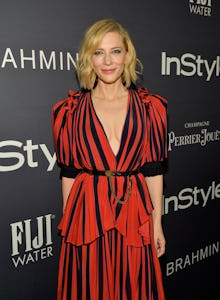 When Cate Blanchett took the stage at Monday night's third annual InStyle Awards to accept her 2017 style icon award, she did it in a striking dress (red, black and blue striped Givenchy) with a powerful message.
Referring to her own style icons, Blanchett said, "For me, it's always those women who have been utterly themselves without apology, whose physical presence and their aesthetic is really integrated in a non-self-conscious way into part of who they are. Women who know how they look is not all of who they are, but just an extension of that. It's about women who feel free to wear what they want, when they want and how they want to wear it. I mean, you know we all like looking sexy but it doesn't mean we want to fuck you."
She continued: "No one says to Steve Bannon, 'You look like a bag of trash. Do you want me to throw you out?' But the comments that get said about what women wear on the red carpet, I mean, if you troll through those trolls on the internet — just don't."
The comment comes two weeks after designer Donna Karan made headlines for what many, including actresses Rose McGowan and Mia Farrow, perceived as victim blaming the women who had at that time come forward with allegations of sexual assault and harassment against Hollywood producer Harvey Weinstein.
Blanchett has not been silent herself on the Weinstein allegations. "Any man in a position of power or authority who thinks it's his prerogative to threaten, intimidate or sexually assault any woman he encounters or works alongside needs to be called to account," she said in a statement after the news first broke. "It is never easy for a woman to come forward in such situations and I wholeheartedly support those who have."
She ended her speech during the award ceremony on a positive note of coming together, telling the crowd: "I just say, bring it on, ladies! Break it wide open. I think you're all extraordinary."