What is bitcoin gold? Key analysis on the price, hard fork, DDoS attack, and how to get BTG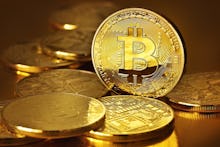 Just days after reaching a new all-time high of $6,000 per coin, the cryptocurrency bitcoin is splitting for the second time since August. The countdown is over in a process known as a "hard fork," similar to a stock split in the sense that you end up with twice as many holdings — but different in that the new "lot" trades separately from the original — and the new coins are called bitcoin gold, also known as BTG, as opposed to regular bitcoin or BTC. Bitcoin price analysis writeups Tuesday suggest bitcoin gold has had a negative effect on bitcoin prices, even as a DDoS attack has thrown a wrench in the launch of bitcoin gold.
How do you get bitcoin gold? Anyone who currently holds bitcoins will receive an equal amount of bitcoin gold in their wallets in November: "To acquire free bitcoin gold you simply have to hold bitcoin at the time of the fork," according to a roadmap published by the new cryptocurrency's creators. "If you hold BTC at that time, you will automatically receive an equal amount of BTG at the same address... when the bitcoin gold network launches in November."
According to CoinMarketCap, the current price for bitcoin gold is a little more than $275. Bitcoin first split in August, creating a version, bitcoin cash, that could process transactions more efficiently.
One reason why? Because of the popularity of the cryptocurrency, traded online via peer-to-peer transactions with no single bank behind it, the sheer number of transactions had bogged down trading and even led some people to switch to rival cryptocurrencies like ether and litecoin: Bitcoin's market share actually fell from 87% on Jan. 1 to less than 40% by the mid-June.
The version that launched in August is called "bitcoin cash," abbreviated as BCC or BCH, and is different from regular bitcoin in that it uses larger blocks of data to speed transactions.
What's bitcoin gold, exactly?
Bitcoin gold supposedly improves on both bitcoin and bitcoin cash, as it uses a different algorithm to create, or "mine," new coins by anyone with a personal computer, Mashable reported. While the original bitcoin could be mined on any computer as well, large mining companies using specialized machines known as ASICs (meaning application-specific integrated circuits) currently dominate the bitcoin network. Bitcoin gold's aim is, in short "to bring bitcoin mining back to the 'people,'" according to the roadmap.
Before you jump on the BTG bandwagon, there are a few things you should know. First, although bitcoin gold was technically created on Monday, the mining software won't be publicly released until Nov. 1, ZDNet reported. Even then, only a few networks will reportedly support BCH, including Coinnest.
There are also some security concerns. Some have criticized the new coin for lack of transparency, since the code for it has not been made public. "At this time, Coinbase cannot support Bitcoin Gold because its developers have not made the code available to the public for review. This is a major security risk," according to a statement on the Coinbase website. (With numerous reports of bitcoin and other cryptocurrencies stolen from wallets in the past, security is an ongoing concern.)
Since bitcoin gold will trade separately from bitcoin, its price could end up staying significantly different from the original's or from bitcoin cash's. While bitcoin was trading at around $5,660 as of noon Eastern on Tuesday, for example, bitcoin cash, was trading at just $337, according to CoinMarketCap.
Then again, since the new coins are basically being given away as free money, a hard fork is a sign of continued enthusiasm for cryptocurrencies, despite a growing chorus of critics (including the Nobel prize-winning economist Robert Shiller) claiming the coins are in a bubble that could pop any day now.
The bitcoin gold site also faced a distributed denial of service attack early on October 24th, and was not accessible at press time.
To learn more about investing in cryptocurrency, check out our explainer.
Sign up for the Payoff — your weekly crash course on how to live your best financial life.