Trump wants to sell the GOP on tax reform. He said Bob Corker "couldn't get elected dog catcher"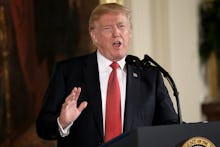 Welcome to Mic's daily read on Donald Trump's America. Want to receive this as a daily email in your inbox? Subscribe here.
Every day, we bring you a different dispatch on Trump's America. Today's focus: Tax reform.
Tuesday's dispatch: A moment of unity?
The divisions at the Democratic National Committee were laid bare last week. But in Congress, Democrats have largely found unity in opposition to President Donald Trump. And their divisions pale compared to the high-level split among Republicans.
When Trump meets with Senate Republicans on Tuesday, he will attempt to navigate a path forward for passing tax reform. Major tax cuts were a Republican dream throughout the Obama presidency. Now they have their shot, but there's trouble ahead.
As was true with health care, three "no" votes in the Republican-controlled Senate will torpedo legislation. Sens. John McCain (R-Ariz.) and Bob Corker (R-Tenn.) have openly feuded with Trump in recent weeks, raising the possibility of dysfunction out of Tuesday's luncheon.
Corker reportedly dismissed Trump's visit on Tuesday as a "photo op." Trump said Tuesday morning that Corker couldn't get elected "dog catcher" in Tennessee and is blocking tax reform.
Still, Republicans seem to be standing largely united on their tax reform principles. The moderate vs. conservative divisions are less apparent than they were during the health care fight, which saw Senate Republicans on both ends of the ideological spectrum come out against proposed bills.
It is Trump who has created division with the GOP. On Sunday, White House budget director Mick Mulvaney said Trump will not agree to any cuts to Social Security nor Medicare to pay for tax cuts. He tweeted Monday that he would oppose lowering the ceiling on tax-free contributions to 401(k) plans.
One early concession the GOP has reportedly given Trump: offering to not lower the tax rate on those who earn more than $1 million annually. That would square with Trump's campaign trail promises to champion middle-class Americans.
But early analyses of the plan suggest it could increase take-home income for the 1% by nearly 10%. And it could raise taxes on people who make between $50,000 and $150,000.
It's also unclear whether Trump will have a better grasp of tax reform policy than he did for health care. His lack of policy understanding was an impediment to a health care bill's passage in the House earlier this year.
Top Republicans have said that, since the failure to reform health insurance, not passing tax reform this year would be devastating for the GOP at the ballot box next November. Trump and the GOP have about two months to get it done.
Today's question: Republicans think passage of tax reform will be a political victory. But if it largely benefits the rich, will people praise its passage?
Please email us your thoughts at trumpsamerica@mic.com.
Tuesday in Trump's America:
The Pentagon isn't being transparent about how four Americans and three Nigerians were killed in an ambush in Niger. Reports say villagers may have misled the soldiers into believing they were needed to respond to a terrorist attack, only to fall into an attack where they were outnumbered.
On Good Morning America on Monday, the widow of Sgt. La David Johnson said Trump "couldn't remember my husband's name" when he made his condolence call.
Now special counsel Robert Mueller is investigating former Clinton aides. Tony Podesta, brother of Hillary for America chairman John Podesta, is being investigated for work he did with Paul Manafort for a Ukrainian client. Podesta may have violated the Foreign Agents Registration Act. Read more about that and other key takeaways.
Members of Trump's opioid commission, which is set to deliver its final report next month, are concerned he's not taking the problem of opioid abuse seriously.
Mic goes deep on fluoride truthers — people who believe fluoride in public water systems will poison us — to discover what they believe, how "fake news" has influenced their growth and why the movement is fragmenting.
Might Senate Republicans have a deal to protect DACA recipients? Possibly, but it would still have to pass muster among the House GOP.
Checking the vitals: There are still no signs of life for Alexander-Murray, the bipartisan compromise that would restore health insurance subsidy payments for two years. Trump has panned the plan and Sen. Mitch McConnell (R-Ky.) will not advance it without a presidential OK.
The Progressive Change Campaign Committee announced its first 2018 endorsements. "We're endorsing Randy Bryce, Andy Kim and Katie Porter because they are authentic, gut-level economic populists who are instinctively on the side of working people and will inspire voters," said Stephanie Taylor, PCCC co-founder, in a statement to Mic. The PCCC is banking on winning by backing candidates who sell their progressive vision with an economic argument. Bryce is running against House Speaker Paul Ryan in Wisconsin. Kim is running in New Jersey and Porter is running in California.
Today's MicBite:
Alice Marie Johnson has spent 21 years in prison for a nonviolent drug offense. Does she deserve a life sentence? Tap or click the video below to watch.